Susan Edmunds takes to the water with a surf school - and manages to do without Piha Rescue.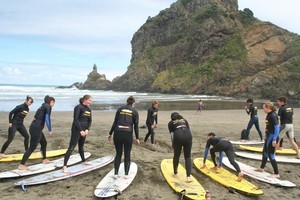 Learning to surf at Piha sounds about as sensible as having your first driving lesson on the Auckland motorway. My visions of clinging desperately to a surfboard while being battered by metres-high waves were only made more vivid when our first attempt to go out with NZ Surf'n' Snow Tours was called off because the surf was too big.
"Never mind," said the woman who sounded as if she was cheerily planning my demise, "We'll try again next week."
So it was that my partner and I arrived at South Piha beach late on a Saturday morning. Having arrived on our own - most surf-tourers are picked up in a bus from the city - we had to wander around the beach a bit in order to find our class. We found one man watching a group of five-year-olds surf. Surely if they could do it, so could we, said my partner. "Fearless," I told him. "Children just don't realise the danger."
We found our lead instructor, Rangi, overseeing the distribution of boards and wetsuits from the bus outside the surf lifesaving club. Would-be surfers poured off the bus, clutching packed lunches, water bottles, sunscreen and, in one case, what looked suspiciously like a bottle of wine.
Most of them seemed to be foreign students on their OE.
All 15 of us hauled ourselves into our wetsuits - as much for safety and buoyancy as anything else, as the sea was 23 degrees. As I regarded the three tour instructors with suspicion, I noticed a man with a camera filming over my shoulder. "Piha Rescue," the boyfriend hissed at me. At least my final moments would be documented.
The surf school uses the biggest surfboards available to make it as simple as possible for new surfers to get up on their feet.
We formed a circle on the sand and Rangi took up position in the middle. He ran us through the "three-step method" of getting on to our feet on our boards.
Thus prepared, we picked up our boards and headed for the sea. On the day we were there the surf was not very big and was breaking near the shore. This was good in that we didn't have to venture far to find waves we could - in theory - catch. Within a couple of waves, my partner was on his feet. He had tried to teach himself to surf in the past but told me what made the difference was the method he had been taught by Rangi - he knew which foot to bring up first and how to stand. He was on his board for most of the couple of hours we were in the water.
The 1-day surf tours include two two-hour surfing sessions in the water. We stayed for one, and in that time, about a quarter of the group - all of whom had never surfed before - were on their feet.
Information
NZ Surf'n' Snow Tours
Ph 09 828 0426, www.newzealandsurftours.com
1 Day Surf School:
$120 pp, or $90 pp if you have your own gear (wetsuit and surfboard). Includes 2 x 2 hour surf lessons, surfboard and wetsuit hire, surf safety and surfing rules and return transport from central Auckland.
NB: Girls-only days are run on the last Saturday of every month from October to May.