Address: Z Pier, 31 Westhaven Drive, Westhaven Marina
Ph: (09) 379 9875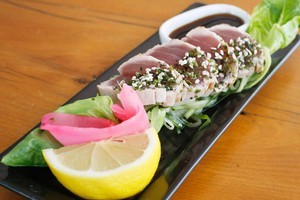 There is always something special about dining by the sea and those beachfront places in tropical parts with palm-fringed beaches, white sand, azure lagoon (insert cliches of your choice) are magical. But for me there's nothing better than to sit in the evening watching as a working harbour goes about its business.
The Bill Fish Cafe provides one of Auckland's better options for this particular pleasure, with its deck overlooking the charterboat base at Westhaven. You can clock the boats coming and going and a couple of minutes after seeing them tie up you can expect the crew, complete with ship's dog, to turn up in the Bill Fish for a presumably well-deserved beer.
This is an unpretentious venue and seems to serve as a popular local bar as well as eating place. All the better for that. As is to be expected, the menu leans heavily on seafood although the varieties of fish on offer are more restricted than one would find in a more upmarket seafood specialist and there is something of a surfeit of crumbed items. But there is plenty of choice in the way you can approach your meals, from the small bites to the traditional and the specials, which have a touch of originality as exemplified in my main course of hapuku with North African spices, served with sauteed potatoes, aubergines and beans.
This was a good dish I would have been happy to have had anywhere and with the bonus of the setting justified our visit on its own.
I had started with the oysters, au naturel and as good as ever, but there was a bit more demanded of the kitchen in the crab and prawn risotto balls, which were appetising if solid and easily bettered by the samosas with paua, bacon and onion, which were crisp, tasty and a little different.
Having ordered the market fish of the day, Chris caught sight of the generous amount and appealing look of the fish and chips passing by and thought that might have been a better option. But having been to some of the world's best fish restaurants, he still thought Bill Fish did a sound, basic job with his hapuku with dill and lemon hollandaise. Our third main was the snapper with parsley and lemon, again competently executed if not exciting.
Of our side dishes, the chunky fries were standard and the scallops, while still good, were not what I consider to be seared, as they were billed.
The dessert menu is limited and mundane. The chocolate gateau was passed in favour of chocolate brownies, which were judged respectable, and the plum and almond tart, although more of a sponge than a tart, passed muster.
There is a good wine list although a warm evening and the relaxed atmosphere made a couple of draft pilsners a good option as the light faded. The service was efficient, friendly and as attentive as could be required.
On a summer night out on the deck Bill Fish's modest charms provided an agreeable way to spend the evening.
Rating out of 10
Food: 7
Service: 7
Value: 7
Ambience: 8
Our meal: $221 for three first courses, three mains, three side orders, two desserts, five glasses of wine and a beer.
Our wine: We had a decent Lake Chalice sauvignon blanc, Matawhero chardonnay and a Butterfish Bay viognier of some character from a pretty good list with a decent selection by the glass.
Verdict: Unassuming but well executed food. Relaxed atmosphere augmented by good service in a great setting.