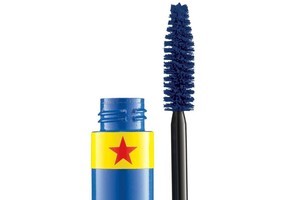 "Been there, done that, won't be going back" was my first thought on the crop of coloured mascaras coming out with new season's makeup collections, but lately I've been reconsidering. Not on electric blue, though - I'll be leaving that to the wide-eyed and fresh faced. But with even Chanel planning purple mascara for winter, clearly a rainbow-coloured wand has been waved somewhere out there.
With colour-blocked looks now a fashion staple I guess it is no wonder that colour is being applied to anything that moves, including lashes.
M.A.C's senior makeup artist in New Zealand, Amber Dreadon, has done her best to convince me that anyone, of any age, can look good in a little coloured mascara. Brown-black, navy-black and charcoal can be more flattering than blackest black on some colourings, especially as women age, but we're talking bolder shades this season: green, cobalt, plum or, for an evening effect, metallics. Dreadon applied deep purple on me and I liked that it wasn't shriekingly obvious, but that it did seem to add an extra dimension to the overall makeup look. As she sees it: "It's about adding a bit of colour to your makeup without having to do the big enormous eyes."
Those with fair lashes can really show off a bright shade, but for a subtle effect apply a toning colour on the tips of your already mascara-ed lashes, say forest green to bring out any greenish flecks.
If you want to have a play with this trend, try a cheap and cheerful coloured mascara, but don't be surprised if even your favourite prestige brand has broken away from black.
Value options include Rimmel's electric blue in its Extra Super Lash Mascara ($14.50); Za's Wide Eyes comb mascara in rose, violet and blue ($26), and Max Factor's 200 Calorie Mascara in navy ($23.90). Max Factor also does the double-ended Beyond Length range in black/silver, black/pink and brown/bronze ($30.99). Covergirl has the safer colour-coded Exact Eyelights selection ($22.95), with Black Sapphire designed to enhance blue eyes, Black Gold for hazel, Black Pearl for brown eyes and Black Ruby for green eyes. This is similar to the don't frighten the horses approach of Clinique's new High Impact Mascara in Brightening Black ($46) which has a navy cast and the Blackened Brown shade of Revlon's Custom Eyes mascara ($28.50).
Other colour-crazy companies this season include Lancome with its excellent Hypnose Drama now in Ultra Lavande ($60), M.A.C Opulash coming in purple, green and a cobalt colour called Themyscira in its Wonderwoman range ($38) and Shiseido Perfect Mascara in Intense Teal ($51).
Pro tip
If you want to avoid getting mascara smudges under your brows, reassess your application technique. Most women mascara the top then bottom lashes of one eye - risking those pesky smudges - before moving on to the other eye. Evana Patterson, Max Factor make-up artist in New Zealand, advises doing the top lashes on both eyes first, before coating the bottom lashes in the same order, eg left, then right, top; followed by left, then right, bottom. This helps give the first top lashes more time to dry before you tilt your head to do the lashes below. Only problem is breaking the habit of a lifetime. She also recommends turning the mascara wand vertically to tip the bottom lashes, which again reduces the risk of smudging, especially if you like to use a fat brush.
Wedding cash belles
Wedding cash belles The Royal wedding is big news in Blighty and while doubtless we'll check out the dress when Kate Middleton finally makes it down the aisle with Prince William next month, it might not be quite the same retail bonanza here as in Britain. Still, that won't stop them trying.
Royalists might want to pre-order the Pandora Royal Wedding Charm, due in store in April. It is a silver heart with a blue spinel at its centre to recall the sapphire engagement ring that was also worn by William's mother Diana. The charm costs $88. English nail polish company Leighton Denny is bringing out a trio of flag-waving red, white and blue shades in its Brit Pack Collection, which cost $30 each.
More Gaga
Lady Gaga is back for a second year as the face of M.A.C Viva Glam, the global lipstick fundraiser which gives all sales proceeds to HIV-Aids charities. In the latest campaign the singer, almost as famous for her getups as her music, looks positively ethereal as we show in this preview picture. Her chosen lipstick ($40) and lipgloss ($38) shades are beige and won't arrive here until April 4, but fans can check out her messages at vivaglam.co. From March 17 the site becomes an interactive network and later you can join in an online fashion collaboration with Gaga and her stylist.
Welcome in
Oscar & Co has turned the usual salon style inside out, with the new Takapuna home of industry veteran Gene Cooksley open for viewing from the street. "We wanted the salon to be outward looking, both in its fashion sense and with the interior," he says. Cooksley, whose previous salon was Jarvis in Ponsonby Rd, is vice-president of the Auckland Hairdressing Association and also works as a consultant, drawing on his knowledge of having opened 10 salons, with this latest one being in Hurstmere Rd. He has brought with him specialist colourist Hannah Von Adams, who is keen on dip dyeing techniques. As an opening promotion to get clients in the mood for the weekend, Oscar & Co is offering a Friday night $35 blow-wave with a glass of bubbles. oscarandco.co.nz