Up-and-coming Australian designer Dion Lee is has collaborated with Cue to create an impressive high-low fashion collection.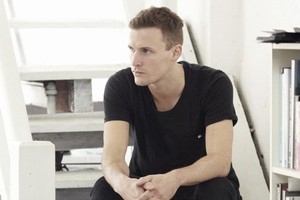 Ask everyone in Sydney about fashion designer Dion Lee and you'll largely get the same response: he is amazing.
Since making his debut in 2008, Lee has very quickly become the young shining light of the Australian fashion industry; the designer whose talent makes people cry with joy (as apparently happened at his show at Rosemount Australian Fashion Week last year). He's a very talented 24-year-old, and has just launched a collaborative collection with high street store Cue - the first time his work has been available to buy in New Zealand.
The collection is impressive and, like Lee's namesake line, interesting. Plus, it comes with a charmingly simple back-story: Lee emailed the Cue team and suggested a collaboration.
The designer-chain store collaboration thing is big in Australia, from Stella McCartney's line for Target to Sportsgirl's recurring designer collections, so unsurprisingly Lee had already been approached by other high street brands about collaborative lines. He wasn't convinced though that it would work for his brand.
"The way I design and approach each product, there's very much an emphasis on cut, construction and tailoring. The thing that scared me about collaborations was I didn't think there was anyone that could produce the complexity of the cut in a way that would do it justice or make it look like an expensive, well-made product."
It's worth pointing out that Lee has become known for his luxurious choice of fabrics as much as he has for his tailoring (a Dion Lee knife pleated silk-chiffon dress will cost you about $4000 from Net-a-Porter.com), and often it's the poor fabrications that let high-low fashion collaborations down. This was important for Lee, but he says Cue was very open in terms of fabric selection. "The fabrics we've sourced are great - they're fabrics that I would use in my own line: cotton canvases from Italy and Japan, the tailored wools are all out of Italy, and so is the shirting."
The collection features just under 50 pieces, which are limited in number and will arrive in three drops - the first one arrived in New Zealand Cue stores yesterday, and the next will arrive in April and May. Like Cue itself, it features clothes for intelligent, busy women - smarty pants work wear that alludes to fashion but isn't a slave to it. "The pieces are pared back enough that you would want to put them on day after day, but aren't so stylised or fashionable that they will date. I wanted there to be a feeling of classicism that ran through the collection," Lee explains.
The first drop has a relaxed utilitarian feel combined with classic tailoring - Lee takes the idea of a trench and applies it to different shapes and garments, like a cotton canvas parka ($560) that's designed to age and soften over time, a utility pocket skirt ($315), a trench fold down pant ($440) and a classic trench with detachable fold-over yoke ($685).
"I wanted to take a really simple idea, and make it feel quite modern and wearable, but in really everyday fabrications like cotton and canvas," says Lee. The other aspect of this first collection is the tailoring with unique cuts - slashing through the sleeves of a classic black blazer ($560), and "subtle details that you wouldn't first notice, but the wearer will explore and discover". The next drop in April features sculptural, felt moulded pieces - a two-tone double Ponte biker jacket ($595) and two-tone felt moulded dress ($450) are stand outs - and in May Lee focuses on leather pieces mixed back with brightly coloured silk drapery.
So, why Cue? Shoppers will know that it is one of the more upmarket high-street stores (dresses are about $400), aimed at women rather than girls. For Lee it was the way the store approaches its market that caught his attention.
"They're quite unique in that they really strive to create a product that is really, really good quality, but also quite affordable. The style of their product, there are parallels between my brand and their brand - the tailoring side of things, but there's also that formality in their clothes that really attracted me."
The team at Cue gave him relatively free reign to design as he pleased, a reflection of their respect for his talent. They too had been approached regarding designer collaborations before, but none had felt "right" until Lee sent that email. "We were incredibly excited [when he got in touch] and are great admirers of Dion's contribution to Australian fashion," says Cue's Design Director Debi Rolle.
"Dion was supported by a team of pattern-makers and mentoring from the Cue design team when required but we made a point of leaving him to his own devices. Dion knows exactly what he wants - and has the talent to back it. If he wasn't the person that he is, we wouldn't have been able to grant him such freedom."
It's a pity that no one has picked up Lee's namesake line in New Zealand, but he is excited that his work will finally be available to buy here. He ends our conversation by saying simply, and rather sweetly: "I hope everyone in New Zealand likes the collection".
* Dion Lee for Cue is available now from Cue in Newmarket, Auckland, and Lambton Quay, Wellington.