Herald on Sunday Rating: 3/5
Address: 2 Mt Eden Rd
Ph: (09) 379 3557
Website: alehouse.co.nz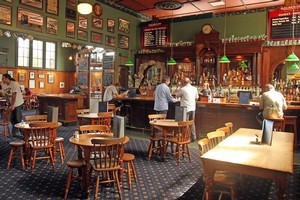 Every summer for 10 years I have spent a week with a bunch of about 100 men in a bush camp up north. When asked what we get up to, I always say "secret men's business" - I figure that anyone who is genuinely interested can Google up an answer in a few clicks.
But I will say that none of the normal activities men engage in when they get together - fishing, drinking or watching sport - takes place. I will also say that it takes a bit of strategic planning. Which means meetings. And when men engage in strategic planning, they meet at the pub.
Not just any pub. Galbraith's is the only central Auckland pub worth the name now that the Shakespeare in Albert St has gone bad (brewer Barry Newman was summarily poured out of the building, I heard, and his glorious brews went with him).
Galbraith's, for the benefit of those unfortunate enough to be unaware of the fact, occupies the wonderful heritage building that was once the Grafton Library. It has been minimally and - for the most part - sensitively restored.
And it is completely unlike most English pubs.
Most English pubs have beeping, flashing pokies; many have a bass-heavy techno-funk soundtrack designed to entertain profusely pierced bar staff and make conversation painful if not impossible; few English pubs have real ale now.
At Galbraith's, nothing competes with the burbling chatter of deeply contented patrons, most of whom are there for the beer. You can drink what you like at Galbraith's - mine's a Bob Hudson's Bitter, thanks - but why you would go there to drink anything but beer is beyond me.
Ah, I remember: to eat. The woman who signs my invoices had been suggesting for some time a return visit to the place, which I haven't reviewed for almost three years. A new chef - a real one - had taken over in the kitchen, she said, so it might be time to revisit my rather lukewarm assessment.
Head chef Adam Clack, who hails from Brighton, writes on the website that he wants to make the place as famous for its food as its beer. Indeed, he claims that Galbraith's customers agree that this is "the best pub food in Auckland, if not New Zealand".
Well, Mr Clack had just left for the day on the Thursday evening that five hungry mates and I showed up for a feed, although presumably he takes responsibility for everything that comes out of the kitchen. And I am forced to suggest that he amend that website assessment to quote "all but six of Galbraith's customers".
The menu is promising enough and there are thoughtful options for vegos: smoked tofu, gnocchi, Welsh rarebit and, somewhat puzzlingly, fish and chips are marked with a "V". I instructed my companions that they all had to order something different and email me a couple of sentences of assessment. It seems apt to quote them. Ratings are out of five.
Lee: The sausages were tasteless, even though they were supposed to be flavoured with some sort of beer. The onion gravy was more like plum sauce, it was so sweet. The mashed potato was very good. (2)
Mike: The chicken was a delight, the green curry dominant without being overpowering. It was nicely complemented by bok choy and angel-hair pasta, and peanuts added texture and contrast, but I could count the beanshoots on one hand and the pieces of red pepper on one finger. (3)
Stephen: Enjoyed the flavours of chilli, prawn and succulent pork belly, but the coleslaw was dry. (2.5)
The alert reader will notice that two assessments are missing. The defaulters, who won't be eating with me again, were enthusiastic about a Scotch fillet and lukewarm about the fish of the day.
My battered fish and chips were bog-standard, though the chips were underdone and the side salad cost extra, which seemed stingy for the $24 price.
The point, I suppose, is that the menu descriptions (and the prices) suggest pub grub with pretensions but the execution doesn't match the intention. It's perfectly unobjectionable, but if this is the best pub food in the country, the country's in trouble. It's certainly not as good as the beer.
Ambience: What a pub used to be
Vegetarians: Several options
Watch out for: Real ale
Bottom line: Still pub grub
THE BILL
$146 for six
Main dishes: $19.50-$30.90