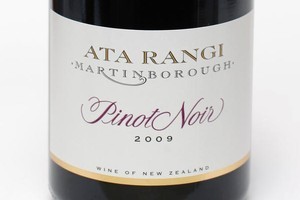 When wanting to impress visiting overseas wine buffs, I have trusty favourites that I pluck from the cellar and open with a good deal of confidence.
Understatement works best. To over-promise invariably invites verbal jousting and a raft of negativity, so I remind myself to play it down and keep my usual exuberance in check. Difficult for an enthusiast and keen promoter of New Zealand wine but hopefully I have learnt to allow the eloquence of the wine to speak for itself.
Most visiting wine enthusiasts have an impressive grasp of our industry but invariably it centres on the sauvignon blanc of Marlborough and the pinot noir of Central Otago. That's not to say that Hawkes Bay or Gisborne or any of our other wine-growing regions are not on the radar, it's just that these area are colourful, aggressive and persistent.
Both do other varietals with equal success but they're very focused on what they know they do best and what they are known for internationally.
So it gives me great pleasure to pull out an all-time favourite and, with a subdued level of theatrical flair, open a pinot noir from Martinborough. Ata Rangi hasn't let me down yet. No matter what vintage, their pinot noir has seen cynical Americans, Britons, and Euro-peans gasp in wonder.
This picturesque Martinborough vineyard has garnered an enviable reputation - and deservedly so. As wine writer John Saker notes in his recent book, Pinot Noir: The New Zealand Story, "this is one of the thoroughbreds of New Zealand pinot noir ... on everybody's perennial shortlist".
Clive Paton planted his first vines in 1980 and he and partner Phyll Pattie, along with current head winemaker Helen Masters, have tended the entire project with the sort of magnificent obsession reserved for nurturing your first-born. Paton's inspiration for excellence came from an epiphany in the early 80s when he stumbled across a bottle of that ethereal, mystical, gentle French burgundy from Chambolle-Musigny.
Comparisons are merely academic but, rest assured, greatness is being produced in Martinborough's Puruatanga Rd.
Recommended
2009 Ata Rangi Pinot Noir, $75
A fine vintage producing a wine that will reward cellaring. A wine of richness and opulence. It has dark fruit flavours with a dash of savouriness. One of NZ's best pinots. Sublime.
2010 Ata Rangi Lismore Pinot Gris, $30
From grapes grown a stone's throw from Ata Rangi's home vineyard, this medium-dry wine has pear, sherbert, nougat and macadamia flavours.