Take a break for some well-recognised botanical benefits.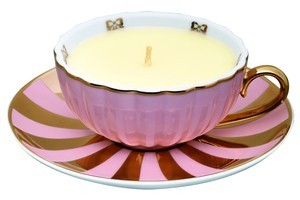 Taking time out for tea is taking on a whole new meaning. Sure, it's stylish to sip from china cups, but these days tea is being touted as a skin saviour and popping up in perfume.
The antioxidants that make it good to gulp are said to offer succour to skin in the battle against free-radical damage.
Australian chemist Bridget Black says of the green tea leaf extract she uses in her skincare line: "It has high antioxidant properties due to its catechin content and is used in anti-aging products. It is also found in sunscreens as it is able to extend the product's SPF, as well as suppress inflammation and irritation."
You'll find tea in all sorts of creams where it often appears under its botanical name, camellia sinensis, on ingredient lists.
Big beauty companies are synthesising tea to chemically replicate the properties of its compounds called polyphenols, and natural providers are including harvested extracts. The makers of Nellie Tier natural skincare in Auckland say they use green tea because it helps repair the skin and reduces damage from harsh environmental factors, with particular benefits for mature skin.
What we associate as tea fragrances are often as much about what is added to the brew as the core plant ingredient. Think lemon, cardamom, jasmine and bergamot oil (as used in Earl Grey); all of these and more have helped define so-called tea fragrances, which tend to be citrusy and aromatic.
Tea perfumes have been around overtly since the 1990s, with Bulgari's Eau Parfumee au The Vert one of the trailblazers. Tommy Girl is a fresh floral version, and Elizabeth Arden's citrusy Green Tea probably the best known.
English fragrance maker Jo Malone has tapped into this concept of choosing a particular brew, with five delicate new colognes, influenced by types of teas and able to be combined or worn individually. So we have Assam & Grapefruit, Earl Grey & Cucumber, Fresh Mint Leaf, Sweet Lemon and Sweet Milk. Outside of these limited edition scents, a few artisan tea fragrances overseas, and the likes of Demeter's Chai and Chamomile Tea and L'Occitane's citrus-style green tea items, most tastes of tea you'll get are all but drowned out by other ingredients.
It's as confusing as picking the right tin in a specialty tea shop.
1. Nellie Tier Green Tea and Geranium hand cream, $38
A rich cream that contains manuka honey, shea butter and green tea extract to hydrate and gently perfume. Nellie Tier uses the tea mix in a host of other products.
2. Clarins Daily Energizer Wake-Up Booster, $38
A new Clarins line for young skins includes this gel-textured booster, with white tea for a morning drink of plant-based goodness.
3. Body Shop Green Tea & Lemon spray, $28.75
Use as a room or linen spritz or spray on skin. There's a candle (without much oomph) and an oil.
4. Jo Malone Earl Grey & Cucumber Cologne, $110
Intriguing, satisfying mix. I've also sampled the soapy Assam & Grapefruit from the five new Tea Fragrance Blends. Sheer, like most Malone scents, you'll need - and want - a refill by next tea break.
5. Shiseido Future Solution LX Daytime Protective Cream, $431
Possibly the most expensive tea you'll buy comes in this premium cream which harnesses uji green tea to promote a smoother, more luminous look.
6. MOR Marshmallow Fragrant Tea Cup Candle, $64.95
Okay, there's no tea in this candy/floral candle, but we couldn't resist the cup which you can reuse.
7. Carthusia Io Capri eau de parfum, $219
Lush yet fresh unisex, almost astringent, minty mix of fig and tea from a renowned Italian perfumery.
8. Trilogy Energizing Face Lotion, $48.90
Trilogy champions rosehip, but also loves green tea, using the extract in its Age Proof, Sensitive Skin and Men's ranges, and this easily absorbed moisturiser.
Stockists: MOR from selected department and gift stores, ph (09) 309 4693. morcosmetics.com. Carthusia and Tocca from World Beauty stores, worldbrand.co.nz. Nellie Tier from Smith & Caughey's and selected gift stores, nellietier.co.nz. Jo Malone from The Chancery or teleorder on 0800-JOMSHOP.