Boxing Day Fashions in the Field winner Meg Wilson is having another shot for the top title at this weekend's Derby Day.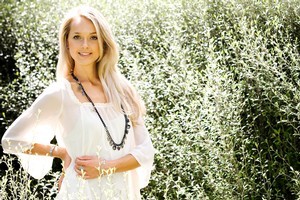 Meg Wilson took out the supreme award at the Viva Fashions in the Field at Ellerslie Racecourse on Boxing Day last year, impressing the judges - including Viva editor Amanda Linnell - with her poise, hat from Urban Turbans and a beautiful Thai-silk dress from the 1960s. "I adore vintage pieces, but rarely have the patience to trawl through second-hand shops," she explains. "The best vintage shops I have found are out at Port Chalmers in Dunedin. While studying at Otago I found some great pieces down there.
"I think it's great how fashion at the moment references the best of so many different eras."
Wilson, who recently began a law career, will aim to continue her raceday winning streak on Saturday, as part of Derby Day's Mercedes Prix de Fashion. This time around, her outfit will have a modern touch: she says she will wear something made for her by a friend, with a headpiece by Auckland milliner Natalie Chan. She tells us more about her style.
What do you think is the secret to good race wear?
I love the elegance of skirts and dresses that fall to the knee - the races are a great excuse to embrace old-world glamour.
It's also important to distinguish between daywear and what you would wear to a nightclub.
What are your best tips for looking good at Auckland Cup Week?
I think a smile is the most beautiful thing a girl can wear, so make sure you go with some good friends, relax and have fun! The races are a great excuse to experiment with colour and hats.
Who are your favourite designers for race wear?
Natalie Chan makes gorgeous fascinators. Kathryn Wilson has a great number of colourful, strappy heels perfect for a day at the races. It's great to find vintage pieces you know no one else will be wearing. And Ruby make some bright, flirty dresses.
Your best beauty tip for the races?
A light floral perfume is a must. I love Lola by Marc Jacobs. A subtle faux tan is a nice nod to summer. M.A.C Face and Body Foundation is my favourite for day use - it is great for evening out the complexion without looking too made-up.
Who is your ultimate style icon?
January Jones is stunning. Her wasp-waisted costumes on Mad Men are beautiful, and she references old-world glamour without looking dated. Erin Wasson is another style icon, but with a much more adventurous and edgy look. She expertly balances the toughness of leather and studs with pops of colour and hints of lace.
What is your handbag - and what's in it?
My favourite is a blue Oroton handbag. It houses all the usual suspects - wallet, old receipts that need to be thrown out, sunglasses, Elizabeth Arden Eight-Hour cream, a to-do list that never seems to get done. And I always carry a water bottle and chewing gum.
How would you describe your style?
Feminine. I love floaty tops and dresses, and I recently bought a beautiful pleated skirt from Karen Walker. I like to keep my look grounded with heavy accessories like my Beau Coops suede boots and chunky silver jewellery.
What is your favourite decade, style-wise?
I love the 1920s aesthetic - the drop-waisted flapper dresses, ropes of pearls and cloche hats. I wish people wore decorative hats more nowadays.
Your favourite stylish place?
I am a die-hard fan of Little & Friday cafe - its whitewashed walls, fresh flowers and pastries feel very Parisian. That is my local where I always meet the girls for coffee and sweet treats. Sale St is another favourite. Nothing beats sitting on their deck with a pinot gris on summer evenings.