Stuck for cheap, healthy, quick-to-make treats to fill the school lunchboxes? Here are some tips from a home-baking expert.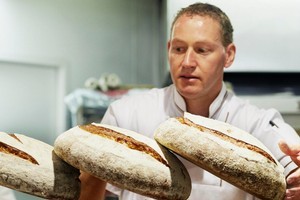 It's that time of the year again. The kids are back at school, but though it's only a week or two in they're already screwing their noses up at the sammies and fruit in their school lunches.
Sound familiar?
Kiwi baking guru and Hottest Home Baker judge Dean Brettschneider has made some tips for keeping the kids keen on eating the contents of their lunchboxes. And some solutions for parents who traditionally avoid home baking on the grounds it's too time-consuming and expensive.
"But it takes too long, and it's too tricky to bake for the kids' lunches ..."
Dean says: "The first misconception about baking is that it takes a long time. For example, at the Zarbo bakery we have a sourdough that is a two-day process but it probably costs you only an hour of your physical time.
"Take a batch of scones - it's just flour water and/or milk, sometimes an egg, with baking powder and sugar and/or salt and a few other ingredients depending on whether they're savoury or sweet.
That's not rocket science. And while you're making up one batch of scones, why not make up a whole lot of and jam them in the freezer? Either baked or unbaked, it doesn't matter.
"This works for cookies too. I make a recipe for triple chocolate chip cookies with pecans that makes up about 24 large cookies. But you can roll the dough like a sausage and freeze it, then bake it as you need it, in smaller batches.
"Baking powder is heat reacted so uncooked dough will keep in the fridge for a week or so, longer in the freezer. It's all about thinking ahead."
"Frequent home baking is too expensive ..."
Dean says: "There's not really a straight-forward answer to 'cheap' baking, the price of commodities like flour, yeast, dried fruits, even walnuts - everything - has really gone up in the past year.
"But if you consider when you buy something made in a supermarket you are paying for packaging, design and distribution.
"Buy smarter; use bulk bins, it's the same product that comes in branded packages. For example, I make my own granola, buying 3kg bags of rolled oats and a whole load of walnuts and almonds. You can make big batches of granola and store them in screw top jars where it'll keep you going for a month.
"The key to saving money is to make things which have a shelf life - like jams and chutneys - as well as things to freeze."
"Aw, mum, sandwiches are so gross and boring ..."
Dean says: "The best way to get kids excited about their school lunches is to get them involved in making them. They're more likely to eat them if they've been involved.
"I have a 15-year-old son and my partner in Denmark has a 7-year-old and a 9-year old - and we've always baked with them.
"We make scones or biscuits and they can each add what they like in it. Plus you're actually getting them to appreciate what it is they are putting into things.
"They do tend to go for things like chocolate but if you add can a few bits of chocolate to something like an Anzac biscuit and it gets them eating all the oats and fibre in an Anzac biscuit, that's okay by me.
"The other thing that will get them engaged and eating their school lunch is decoration. Even with a bran muffin - why not put a lolly on top? Or decorate it with a face using a couple of Pebbles."
"You're not convincing me that baking isn't just about filling them with sugar ..."
Dean says: "There are lots of different sugar substitutes that aren't the sachet stuff, things like apple or agave syrup, or honey, all things that have better nutritional value than processed sugar. Just remember that sugar is also a softening agent so you can't just cut half the sugar out of something - you'll end up with a dry muffin. It takes a bit of trial and error to find what works.
"You can also trick kids into eating more veges by hiding things like carrot and pumpkin in bread and scones."
* Recipes extracted from New Zealand's Hottest Home Baker with Dean Brettschneider (Penguin, $35), the companion book to the TV series. Out next month.