Herald on Sunday Rating: 3.5/5
Address: Unit 103, Ironbank, 150 Karangahape Rd
Ph: (09) 377 2991
Websites: aruns.biz, ironbank.co.nz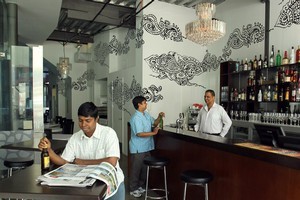 Heaven help us. Now it's Indian tapas. It doesn't say so on the menu, but Arun's website promises "a modern Indian experience ... ranging from flavoursome curries, succulent flavours of the tandoori and a mouth-watering tapas selection".
Now far be it from me to point out that the oven is the "tandoor" and "tandoori" is an adjective describing the food that comes out of it: thus "flavours of the tandoor" and "tandoori chicken". But on the matter of tapas, I really must put my foot down.
It's getting out of control. At Industry Zen, the "traditional" food includes "samurai tapas". Now here's an Indian place offering tapas - but plainly referring to a section of the menu called appetisers and including such items as chicken tikka pieces, onion bhajis and samosas.
What next? Spring rolls become Chinese tapas? Herrings are Norwegian tapas? At the fish and chip shop, will we select our mussels, scallops or oysters from the tapas list ("It's there on the right, sir, just beneath the thickshakes and above the banana fritters")? Will the snails in garlic butter now arrive with a cheery "Et voila les tapas d'escargot, monsieur"? Enough, I say.
Arun's is in the middle of the busy part of K Rd and calls itself a restaurant and bar, so I can assume only that the t-word is used to attract tipplers - a kebab and a Kingfisher before you run for the bus - which is at least enterprising.
Come to think of it, I'm not sure I've come across an Indian bar before - certainly in India, a beer is harder to find than an espresso in Manhattan - so good luck to them.
The restaurant has been heading this way for some time. It started life in 1998 in the little block of shops by the Red Beach turn-off on the southern approach to Orewa and moved to Albany Village in 2006. It's been in the K Rd spot less than a year.
To be honest, I was mainly attracted to it because of the building that houses it. Ironbank - see the website above - is a genuine visual pleasure in a cityscape that architecture has rather badly betrayed over the past generation.
The design, which features cladding of rusting steel and strikingly offsets each floor from the one below, is certainly playful, but it has serious things in mind too: rain harvesting, solar water heating and an automatic car-stacking system that makes parking half the fun.
You can see a video of the car-stacker at work on the website, but call ahead: I understand that in recent weeks the machine has been doing the stacking bit really well, but has been slipping up on the bit where it gives you your car back at the end of the evening.
The boomerang-shaped space that is Arun's is certainly pretty mod and slick. And we were most impressed with the waiter's bonhomie and unforced charm as we talked about such matters as the increase in meat-eating in India.
So engrossed were we that it was not until our food arrived that I realised we had not specified - and had not been asked - how hot we wanted each dish.
The slightly disappointing result was a rather mild array and I'm not sure that there was anything that justified the promise of "a modern Indian experience" - a phrase that had suggested to me some sort of Indian fusion.
Indeed there's nothing on the menu to frighten someone who has never been further than the local Indian takeaway.
But that apart, this is excellent food. We worked our way through the house special (coconut beef curry); creamy mango prawns; mansoori lamb cutlets (a rack done in the tandoor and served with an electric-green yoghurt and mint sauce); some sensationally tasty red-lentil dhal, rich with coriander and ginger; and a channa masala (chickpea curry).
The man who took my money pointed out the line at the bottom of the menu enabling us to choose between mild, medium and hot, but I still can't help thinking that we should have been asked - or at least that an alert waiter might have commented that we needed something with a bit of grunt.
That said, Arun's is an upscale place which does a good line in pan-Indian cuisine.
Ambience: Modern
Vegetarians: Will fit right in
Watch out for: Mild curries
Bottom line: Glassy and classy
THE BILL
$138 for three
Appetisers: $10-$16
Tandoori: $20-$28
Curries: $14-$28