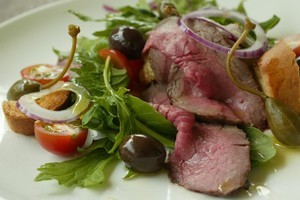 Salad days
Slice grilled steaks to share expensive cuts like eye fillet with a crowd. Touch on the Med with grilled peppers, tomatoes, olives, red onion, artichoke hearts on a bed of rocket greens, or layer with avocado, feta, croutons and balsamic dressing.
Use your noodle
Slice steak on to a Thai beef salad with rice noodles, mint, bean sprouts, chilli and a sweet rice vinegar dressing. Or cube, thread on satay sticks and barbecue, then serve on a bed of egg noodles and peanut sauce.
Sandwich
Sliced steak sandwiches are a luxurious twist on hamburgers: serve on good baps with plenty of caramelised onions, rocket, tomato, pesto - even add grilled cheese or fried egg for a serious protein hit.