A new cookbook written by two old friends exploring their culinary heritage should reignite your zest for Italian food.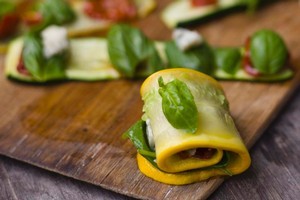 Antonio Carluccio is one of Britain's best-loved Italian chefs, hosting television shows and publishing more than 13 books. His mate Gennaro Contaldo has the dubious claim to fame of teaching Jamie Oliver all he knows about Italian cooking. The old friends have created this book to accompany a new BBC show where they travel through Italy re-connecting with their culinary heritage. The title alone promises food with gusto and soul, and with their focus on good, simple dishes, the pair will reignite your zest for real Italian food. Again and again the chefs comment on the changes to Italian cooking (both left Italy more than 30 years ago), as regional differences are blurred, family life is changing and people are using ready-made ingredients (luckily, to Italians that means bought pasta, not frozen TV dinners). To their shock, the chefs even found some youngsters are having to be taught cooking in schools, not absorbing it from their mothers and nonnas.
Every summer about this time, gardeners despair at what to do with bumper crops of zucchini before they turn into mega-marrows. Carluccio and Contaldo concoct peasant dishes from the north and south of Italy from antipasto to salads.
For a fresh take, they pair zucchini with mint, either thinly sliced raw in a salad dressed with extra virgin olive oil, balsamic vinegar finely chopped garlic and a handful of rocket leaves, or baked with olive oil for 10 minutes and chopped on to toasted country bread crostini.
The involtini combines northern and southern Italy (the cheese is from the north, courgettes are typically southern) and begs to be enjoyed with a glass of prosecco as a snack or a nibble any time of the day.
Involtini di Zucchini
Roasted Courgette Rolls
Makes about 16 involtini
2-3 large courgettes
salt
100g gorgonzola, roughly chopped into chunks
6 sun-dried tomatoes in oil, finely sliced
a bunch of basil leaves
Marinade
5 tbs extra virgin olive oil, plus extra for oiling
1 large garlic clove, finely chopped
freshly ground black pepper
1 Preheat the over to 180°C.
2 Combine the marinade ingredients in a small bowl and set aside.
3 Cut the courgettes lengthways into slices about 5mm thick. Arrange the slices on a plate, sprinkle with salt and leave to rest for 40 minutes, until they have exuded some liquid and are soft.
4 Pat the courgette slices dry with a tea towel, place on a lightly oiled baking tray and brush with some of the marinade. Roast the courgettes in the oven for 10-15 minutes, until the edges begin to golden. Turn the courgette slices over, brush with the remaining marinade and cook for a further minute. Remove from the oven and cool.
5 Add a few pieces of the gorgonzola, a couple of slices of sun-dried tomato and a leaf or two of basil.
* Extract from Two Greedy Italians by Antonio Carluccio and Gennaro Contaldo Text © 2011 Antonio Carluccio and Gennaro Contaldo; Photography @ 2011 Chris Terry, $45, published by Quadrille Publishing, distributed by Southern Publishers Group.
Be in to win
Win a copy of Two Greedy Italians by Antonio Carluccio and Gennaro Contaldo, email your contact details to life@nzherald.co.nz with "Two Greedy Italians" in the subject line by Thursday March 3.