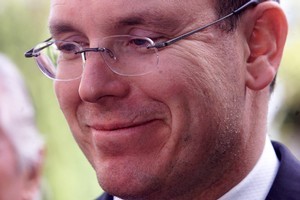 The news that His Serene Highness Prince Albert of Monaco has chosen a South African wine to be "the wine of choice" at his wedding celebrations this July has understandably delighted the South Africans.
Alas, it is unlikely the French will share their South African viticulturists' sense of pride and delight.
Albert's selection of a Stellenbosch vineyard's Dombeya selection brought undisguised joy from the Haskell vineyards' partner Grant Dodd who said this week: "We are delighted and honoured to be afforded this privilege.
"Prince Albert has been a regular visitor to the winery over the past five years and he was also the first person to sign up for our Platinum Wine Club. He has been a great supporter and unfailingly complimentary towards our wines."
Haskell claim that, thanks in part to their royal patronage, their wines have now become "established" in Monaco.
They may be, but only for a select elite. For just across the road from the Royal Palace in Monaco, lies an enormous French-owned supermarket called Carrefour. And if you find a bottle of South African wine anywhere on its extensive wine racks which simply groan with bottles, you will consider yourself either very lucky or distinctly unfortunate, depending on whether you were born in South Africa, in France or elsewhere.
It is rumoured that the odd, rogue bottle of German Riesling or Italian Chianti has been seen lurking in Carrefour, all but hidden at the back of a top shelf perused only by those used to doing their shopping on stilts. But for ordinarily sized customers, there is red wine from France, white wine from France, rose wine from France. And, er, that's about it.
Your chances of buying a bottle of that renowned (if overpriced) New Zealand Sauvignon Blanc Cloudy Bay, are about as bright as expecting to purchase a bag of whelks from the murky East coast of England.
As for hoping to enjoy a bottle of Cloudy Bay's superb South African counterpart from Bouchard Finlayson, forget it. You'd probably be likelier to see a stick of boerewoers on the shelves of the French supermarche chain than any bottle of South African wine.
You see, it is all very well H.S.H. Prince Albert sipping a glass of Haskell vineyards' finest as he looks out over the Mediterranean from his cliff-top eyrie, but most of his subjects are unable to share the privilege.
For in the world of French supermarkets, wine is only made in France. The rest of the world might think it is producing the stuff, but it is kidding itself. "Monsieur" cannot be serious - "zis is not proper wine", is their mantra.
The French have a phrase to describe a pre-meal mouth taster. It is called an "amuse bouche". Yet I doubt whether New Zealand or South African wines would even qualify in this category, in the eyes of the French.
On the shelves of Carrefour you can buy wines from just about every known region of France: Burgundy, Bordeaux, the Haut Medoc, Alsace, Loire, Corbieres, Le Var, Provence and Roussillon to name but a few.
But New Zealand? Never heard of it. South Africa? "Do zey make wines? How amusing, Madame. But, bien sur, they are not serious wines, like our great Gevrey-Chambertin or Chateau Margaux. Zese are proper wines, Monsieur."
French supermarkets, including those in Monaco, sell French wines, French meat, French fish, French bread, French preserves ... and not much else. Except that, perhaps as a sop to the English who live in the south of France in increasing numbers, there are a few individual products that are as British as roast beef and Yorkshire pudding.
You can, for a suitably elevated price, buy a jar of marmite or a packet of Carr's English water biscuits. Oh, and a packet of Kellogg's cornflakes. You can also buy, should you be a refugee from Mumbai or Delhi, jars of curry sauces.
They also do some Mexican foods. But wines from anywhere other than France? Not a hope in hell.
All of which leaves those residents of the south of France with only one choice if their favourite tipple is a Sauvignon Blanc from South Africa.
Get up early on July 1, dress smartly, gatecrash security and slip into the rooms or marquees where H.S.H. Prince Albert will celebrate his wedding to the former South African swimmer Charlene Wittstock.
There, the golden nectar of a South African wine awaits.