An Auckland woman used practical tricks for extra space in the smallest room.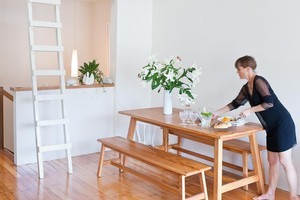 Having bought an apartment in Ponsonby, Jo Bates had trouble finding decorating inspiration.
The deputy editor of food magazine Taste, she says the Kiwi obsession with owning a family home and a patch of dirt means local design magazines don't often feature ideas for apartments.
"Most New Zealanders don't own small homes, whereas it's so common in other countries," says Bates. And she should know - she has lived in Sydney, Melbourne, London, Hong Kong and Colombo.
Her Auckland home is one of a block of eight built in the 1960s, with the bedroom and bathroom downstairs, and a kitchen and living area upstairs. "I'm lucky that it had been designed with plenty of storage and good wardrobe space."
But the colour scheme wasn't to her liking when she moved in four years ago. "There were some nasty colours, a mottled sponge-effect feature wall, apricot bathroom fittings - it was in a pretty bad way."
By painting the walls a clean, crisp white and keeping furnishings to a minimum, she has made the 60sq m apartment seem much more spacious.
A keen cook, she was soon frustrated by the limited storage and bench space provided by the 1960s kitchen in a corner of the living area. So she pulled it out and put a new kitchen in the landing area at the top of the stairs, making room for a dining table in the main living area.
To save money on the kitchen, she bought flat-pack cabinetry from a hardware store, put together most of it herself, and had it fitted by a builder.
The next project was tackling the internal bathroom and laundry. By relocating the washing machine into an adjacent wardrobe, Bates liberated space in the bathroom for a walk-in shower and a large basin, which doubles as a laundry tub. This arrangement also saved her money because she didn't have to shift any plumbing.
A revolving mirrored cabinet combines practicality with smart design in one corner.
"I learnt that you have to spend a lot of money on the smallest room in the house but the result has been worth every cent." She says working on the apartment has also opened her eyes to what she really needs to be comfortable.
"Living [alone] makes you think about how little space you need and use," she says. "I would like something more grown-up and bigger with a backyard one day, though. Having got my hands dirty once, I'd be quite happy to do it again."
Style tips
Easy option: Using chalk paint on some cupboard doors gives Bates the freedom to change the look of the cupboards whenever she wants.
Cutting costs: Bates splashed out on Italian tiles for the bathroom floor, but saved money by buying cheaper tiles for the walls.
Made to measure: If you can't find furniture to fit a space, have it custom-made. The table and benches were made to suit her apartment using blackbutt timber from Bates' parents' property in Kerikeri. "I like the way you can feel the knots in the wood. I don't mind if it gets a bit scratched and worn over the years; the patina makes it more interesting."
Leanne Moore is the editor of Your Home & Garden. See the latest issue, on sale now, for more ideas for your place.