Kiss and tell, the luxury look is what makes our heart swell.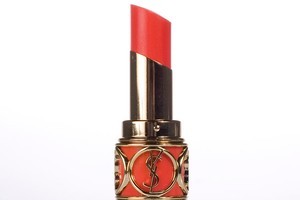 You can't imagine the star of a Hitchcock movie reaching into her pigskin handbag for a plastic tube of lipgloss to touch up her perfect pout. Glamour demands lipstick.
At the height of the Hollywood awards season, and with lipstick enjoying a revival, what then are your best red carpet choices? Obviously no ordinary applicator will do, you'll need something sleek and made of metal. Something elegantly weighted and discreetly embossed.
It should give a satisfying snap as you open and shut the lid. Of course, there should be a decent lipstick inside, but we're talking about the superficial appeal of the canister, not the perfect, creamy contents.
More than any other beauty item, lipsticks are used in public, and made to be shown off. The play of colour across the lips is meant to draw admiring glances, as seen in countless movie moments.
You might get away very nicely with using a lime green and pink budget mascara at home, but when it comes to lipsticks a little elegant showmanship never goes astray.
It plays perfectly into the feminine mystique that has always surrounded the application of rouge to the lips.
Of the most recent examples of lipstick luxe, Chanel Rouge Allure is truly covetable. Unmistakably upmarket in look, it is black with gold trim and an interlinked logo on the top - so far, so designer - but what makes this particular lipstick stand out, aside from its happy marriage of form, function and marketing budget, is its engineering excellence.
Press down the top and the lipstick tube expands in length before you slide it open, then, when you've finished, the lacquer case quietly compacts back down. Genius, and a subtle in-the-know variation on the usual pop tops.
My other favourite lipstick to flash is Yves Saint Laurent's Rouge Volupte, which has been round for a couple of years longer and has a look more maximalist than minimalist. I still thrill to its gold case with enamelled insets in colours that match the lipstick. There's even a dinky little round mirror on the end of the lid.
Lipstick is the entry point at $50-plus into luxury brand shopping, one reason so much effort goes into making it enticing.
Rouge Dior, with its midnight blue, square-sided case, speaks to all ages of grown-up glamour as does the chubby, rounded gold Diorific case. They remind me of my first big-ticket beauty buy at age 18, a red-as-red Dior colour called Rouge Mysore in a now-discontinued blue hexagonal case with gold trim.
To cover the generational bases, Dior now makes Dior Addict, a silver tube sheathed in a holographic effect case. Lancome, which has a wardrobe of well-designed lipsticks, is enjoying a similar flight of fancy this season with a limited edition silver disco-ball-effect mini-tube.
Fashion-forward brands tend to adopt matte black finishes, such as the rubbery feel at Nars or M.A.C's black bullet shape, both a bit too edgy to classically complement the bejewelled evening bag. For this, a silver or gold case is the way to go: good silver ones come from Chantecaille, Becca and Clinique.
Navy is still in style at Estee Lauder, although gold is the brand's favourite choice. So too at Clarins, with its new Rouge Prodige, and at Guerlain and YSL, and coming in a month is a new glamorous look in lippy from Elizabeth Arden.
Then there's always the fail-safe shiny black case exemplified by Chanel Allure, of which there are many similar versions, from Bobbi Brown down.
For some reason, which doubtless a design expert could explain more easily than me, square-sided cases are most common, perhaps because they subliminally denote significant edifices (to conspicuous consumerism), making them "must have" style monuments rather than frivolous indulgences. Go on then, build a little collection.
Stockists: Brand counters at selected department stores and pharmacies, unless otherwise stated. Clarins also at selected salons. M.A.C Marcel Wanders exclusive to Chancery store, or ph 0800 MAC SHOP.