The good ol' cuppa is riding a new wave of popularity. Nicky Pellegrino reports on the explosion of boutique teas that are a far cry from the humble English breakfast.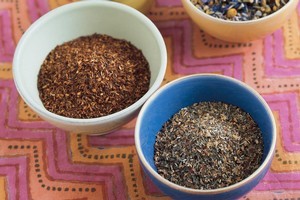 Fancy a nice cuppa? Would you prefer a Jasmine Pouchong or a Hot Cinnamon Spice? Or perhaps a Pomegranate Oolong is more your cup of tea?
Once the most workaday of beverages, served day and night in good times and bad, tea has tarted itself up. And while good old gumboot isn't going anywhere, the lure of fine teas, exotic blends and even extraordinary-looking art teas is becoming increasingly difficult to resist.
Michael Harney calls it the "tea revolution". When his father first started the family business, Harney & Sons, purveyors of high quality tea housed in beautiful tins, way back in the early 1980s few people were interested in the blends. The tradition of tea drinking had been tarnished by the trend for convenience foods.
"People drank instant tea - a powder they put in hot water," recalls Harney.
"They weren't interested in doing things the way granny did them. So it was a little slow in the beginning but it worked in the end."
These days, drinking tea is increasingly cool. Designer Karen Walker is such a fan of Harney teas that she serves them in her upmarket Takapuna shop, The Department Store.
In New York, the company has a tasting room in the heart of trendy Soho, where master brewers offer samples of 250 varieties. And devoted customers regularly write to the Connecticut-based company begging them never to change their most-loved blends such as Hot Cinnamon Spice and Paris (a fruity black tea with a hint of lemon and vanilla).
Harney himself drinks tea all day, starting with a pot of his favourite Assam every morning, followed by a working day of tasting about 30 different teas for quality control and blending.
Although tea comes in four varieties - black, green, oolong and white - all are basically the dried and processed leaves of one species of plant, Camellia sinensis. Where it is grown, when it is harvested - spring teas are superior - and how it is processed all affect the end result.
Coffee remains the more popular beverage. In the United States, 10 times more coffee is drunk than tea. But Harney points out that tea offers much more variety to the palate. "Green tea is light and vegetal, with a nutty flavour," he says.
"Oolong has a natural fruity flavour, Japanese green tea tastes of seaweed, and a good Assam can have a flavour of honey, toasted malt or caramel. Then you have all the black teas to which flavours are added."
It's not difficult to detect the difference between a supermarket blend and a premium tea. Snip open the average teabag and you'll find what's inside is very fine cut compared with the larger leaf of most quality teas.
Anna Salek, of Auckland-based tea merchants Tea Total, says there are other signs that such tea is of lower quality: "Generally you'll get a harsher cup of tea with more tannin and caffeine," she says. "If you use teabags you've probably got quite stained cups."
Salek started out selling specialty teas at Sydney's The Rocks markets and founded Tea Total 16 years ago. In that time she's seen definite trends in drinking the brew and says tastes for it vary around the globe. "In Europe they like maraschino cherry, amaretto and almond-type flavours that wouldn't be popular here.
"The Kiwi palate prefers a cleaner taste with citrus and vanilla. The rise of green tea here has been phenomenal."
What Salek calls "sensational teas" are also growing in popularity - these include art teas with hand-sewn flowers whose leaves unfold prettily when steeped in hot water, Chinese brick teas that you break bits off (these have a very earthy flavour, says Salek), and teas with bizarre things added to them - just about the oddest one she has come across so far contained gummy bears.
Cake is the obvious food match to tea but many also pair well with savoury foods.
Salek suggests matching a lunch of sushi with her Japanese Genmaicha tea with its flavour of toasted rice.
She also enjoys drinking lapsang souchong with egg sandwiches.
Harney does a tea called Bangkok flavoured with coconut, lemongrass and ginger that he says works well with spicy food.
You can cook with tea, too. It lends itself to being baked into biscuits and oolong tea can be added to a chicken noodle soup.
Oolong is traditionally grown in China. But it is also grown near Hamilton. Vincent Chen and his father, Tzu, imported 1500 tea seedlings in the late 90s and, although only a few of them made it through MAF's rigorous quarantine Chen now has two plantations in the Waikato, one of them complete with a visitor pavilion and teahouse.
There he produces an oolong tea certified as the world's purest - he even exports some of it to China.
A host of New Zealand merchants sell special blends, including Wellington's T Leaf, Queenstown's Tea Global and Auckland's Tea Culture.
When it comes to making tea, Harney says you can make it complex or just stick to his simple rules: "With black tea you use boiling water and steep for four to five minutes."
Green tea needs less steeping time and a lower temperature. "A good guideline is that you should be able to hold a pot with your hands."
There's only one real hard and fast rule as far as Harney is concerned: "The sign of a good tea is that it makes you smile."
Summer thirst quencher
Iced tea makes a delicious cooling summer drink which can be stored for several days in the fridge. Here is Anna Salak's recipe, with variations for different tea types:
* Black tea: To make 1 litre of iced tea add 4 heaped teaspoons of black tea to 1 litre of cold water, stand for two hours in the sun or overnight, stirring occasionally. Strain, sweeten to taste with honey, sugar or artificial sweetener and serve over plenty of ice with slices of lemon and mint leaves. Boiling water will release the tannins in the tea and produce a cloudy liquid when it is cold, so stick to cold water.
Experiment with different varieties. I like Earl Grey Rose with slices of lemon, Peach and Fresh Mint green tea with fresh berries and mint leaves, or Earl Grey Special with sliced fresh ginger and lemon.
* Fruit and herbal teas: To make 1 litre put 6 heaped teaspoons of tea in a jug, cover with 1 litre of boiling water and stand for three hours or overnight. Strain and sweeten. Add berries, citrus mint and plenty of ice to serve. I suggest Sweet Sunday fruit tea served with strawberries, Energizer herbal tea and mint, and Mango Star fruit tea with pineapple.
* More recipes at teatotal.co.nz