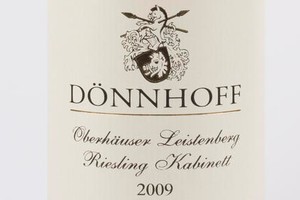 If you donned a "Jesus drinks riesling" T-shirt in the normal world, most people would think you were one sandwich short of a picnic, but among other riesling freaks it doesn't make the grade.
A gentleman wearing an "Auslese ist beste" T-shirt at the recent In Praise of Riesling in Waipara won.
It wasn't the best T-shirt that stole the show but the generously proportioned man wearing it.
He was so keen to win that he turned it into a wet T-shirt competition and no one else was prepared to go that extra mile.
Riesling clearly drives some to madness but it is those who don't drink riesling who are insane.
Riesling is pure and unadulterated and a joy to drink. It is naturally high in acid and often has some sweetness.
New Zealand riesling producers seek to compete with the best - from Germany, Austria and France.
At the riesling seminar the Europeans showed they still have the upper hand, thanks to their climate, soils, mature vines and centuries of experience.
New Zealand has been making riesling for less than three decades yet is showing great potential, particularly in Central Otago and Waipara.
Producers should be encouraged to plant more and make more but they will do so only if more people start drinking it.
So, follow Jesus and drink riesling. Amen.
2009 Waipara Springs Riesling, Waipara ($19, Foodstuffs, waiparasprings.co.nz)
A juicy riesling with oodles of orange peel, white peach and cinnamon spice. Great texture, mouth-watering acidity and a bargain to boot.
2010 Locharburn Riesling, Central Otago ($25, Primo Vino Hamilton, Salute Albany)
Fresh and clean riesling with intensity and zest. Aromas of lemon, apple and floral notes. Off-dry and well-balanced.
2009 Donnhoff, Oberhauser Brucke Spatlese, Nahe ($37.99, Caro's)
Pronouncing this one might be a problem but drinking it certainly ain't. A medium-dry style, with beautiful floral and spice notes. It's pure, clean, fresh and just 8 per cent, making it the perfect aperitif.