Herald on Sunday rating: 2/5
Address: Langham Hotel, 83 Symonds St
Phone: (09) 379 5132
Website: eightrestaurant.co.nz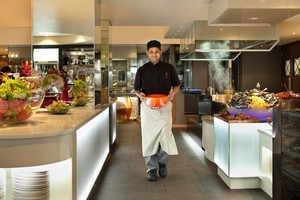 Don't mention the "b" word. The new restaurant at the Langham, advertised by Broadway-size banners on the hotel's frontage and on K Rd, does not offer anything so vulgar as a buffet.
In fact at Eight you don't even get a meal: you go on a "journey". The word is mentioned six times on Eight's home page (and "buffet" is not). Specifically, it's a culinary journey.
It's the word of the century-so-far, journey. What was once a job is now the next part of one's "career journey" and a kid doesn't go to school any more, but rather embarks on a "learning journey". I put up with this. Through gritted teeth.
Perhaps they call it a journey because we walk (or rather mill) around while we choose our food, which (well, some of which) is cooked on the spot. Presumably it is also a journey in the sense that the food from the eight separate kitchens is nominally multi-ethnic. You know: around the world in eight plates.
I say "nominally" because it's hardly venturing into unknown territory. Apart from the dim sum, the Eight journey would not seem unfamiliar to anybody whose eating-out has been limited to catered wedding breakfasts in the Waikato.
Anyway, the bread and pastries are served in a section called Champs Elysees and the "New York grille [sic]" is called Route 66 (after a highway that, as the song says, "winds from Chicago to LA" and doesn't go within 1000km of New York).
The desserts come from Dessert Rd (geddit?), although the dishes themselves don't sing of the high tussock to me: most of them look like they have been extruded from a plasterer's pressure-gun and the liquid flowing down the chocolate fountain congeals to a texture rather like that of lard.
There's no accounting for taste, of course, and Eight will probably appeal to anyone who likes a buffet (from which it differs only in the sense that about 30 per cent of the food is not pre-prepared).
But, like a buffet, Eight presents a gastronomic problem. The Professor put it well as she got to grips with some sashimi. Her tastebuds were awake, she said, keenly anticipating sake, tempura, yakitori, miso soup; it felt faintly confusing to be contemplating moving on to butter chicken or hsiu mai or a Scotch fillet.
This may not be everybody's view, of course. Those who prize a coherent dining experience are not naturally drawn to places offering "all you can eat" (a phrase not uttered at Eight; they say "it's all yours and we're open until 11"). But, to put it kindly, the food is more notable for its quantity than its quality.
Only the dim sum - superbly fresh dumplings, including good vegetarian ones - was remarkable; the rest varied from buffet-good to quite bad. The fish tasted no better than at any beach barbie; the tandoori chicken was as dry as Gib board; the salad bar consisted of sliced and grated salad ingredients - what can I say?
The man in charge at that grill would be gunned down in New York: I asked for a steak medium-rare; he said he feared he'd cooked it medium; he had cooked it very rare. It was also unseasoned. The standing rib beside him had been roasted to rags.
His "marinated portobello" mushrooms were actually slathered with a vile pesto - and they weren't portobellos.
Meanwhile, the restaurant has what people who like using the word "journey" would probably call "service issues".
Arriving at 6pm, as instructed, we were seated and ignored for nine (I counted) minutes while members of the waiting staff passed within a metre of us on 15 (the Professor counted) occasions. We were, for all nine of those minutes, the only customers in the entire place.
It might have lasted longer if I hadn't cracked and suggested, with some warmth, that a glass of water would be appreciated. Later, the staff had some trouble keeping pace with the table-clearing when the place was only half-full.
The bottom line is that this is less cuisine than it is catering, and, at $67 a head ($37 for lunch or Sunday brunch) not cheap unless you have a hell of an appetite (the wine prices are eye-watering, too).
Journey, maybe. But this was no bon voyage.
Ambience: Bland
Vegetarians: Virtually ignored
Watch out for: Wine prices
Bottom line: A buffet
THE BILL
$185 for two
Dinner Journey: $134
Wine (three glasses): $51