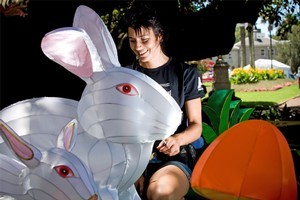 The Auckland Lantern Festival is celebrating a "full cycle" with the Year of the Rabbit when it opens for the 12th time at Albert Park tonight.
The annual event started in the last Rabbit Year as a one-day affair with second-hand lanterns imported from Singapore.
Now, it's a three-day festival, with lanterns sourced from China and international performers, attracting between 150,000 and 200,000 Aucklanders.
"Seventy-five per cent of those who came to the first one were Chinese, but now most of those who attend are people of other ethnicities," said Jennifer King, the Asia New Zealand Foundation's cultural director, who has been organising the event since its inception in 1999.
"It reflects the reality that Auckland is becoming increasingly more diverse, and how many are also becoming more accepting and appreciative of cultures other than their own."
Ms King said the festival was also seen as one of Auckland's signature cultural events, together with the Pasifika and Diwali festivals.
The Lantern Festival, or Yuan Xiao, marks the end of the 15-day Chinese New Year celebration, and celebrations in Auckland will run at Albert Park until Sunday, ending with fireworks.
"Chinese New Year celebrations are loud and noisy with plenty of firecrackers, lion dancing and fireworks to ward off bad luck and evil spirits, and that's what we're having at the Lantern Festival," Ms King said.
Travel agent Stephanie Lin, a regular at the celebration, said: "I think Albert Park is getting too small for the event."
Highlights at this year's festival will include Beijing-based Askar Grey Wolf, a contemporary rock band with Uyghur and Han Chinese influences, and Shanghai Bai Yulan jazz band, with overtones from 1930s Shanghai.
The 2000-year-old Chinese tradition of rod puppetry will also be brought to life by the Chengdu Puppetry Theatre.
In the Chinese zodiac calendar, the rabbit is fourth in a cycle of 12 animals.
Those born in the Rabbit Year are said to be artistic and reserved, preferring to work behind the scenes.
Festive fun
* Where: Albert Park, nightly from 5pm
* Highlights: lanterns, local and international performers, firecrackers and fireworks