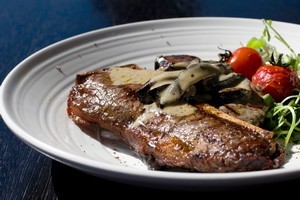 There will, no doubt, come the time when eating meat is considered as barbaric as throwing Christians to the lions. On that happy day, which will be about the same time as nations agree to beat their swords into ploughshares, steak houses will become tofu bars and pulse palaces. But for now restaurants specialising in delivering protein by the animal route are doing very well.
One such which has been attracting favourable opinions is the Marvel Grill. It's not difficult to see why. The premises are appealing, with a decent-sized bar and a long room inside, mirrored by tables outside, even if the view is of the central carpark. The meat - and there's lots of it - is on display. The cooks are in full view and the smoke of grilling flesh is thick in the air, appealing for the sort of customer the place is aimed at.
There are options for those without a T. Rex appetite, such as a starting selection of cold dishes ranging from a dish of olives up to a Caesar salad and a wide choice of what they describe as hot skillets. A decent meal could be had from them alone and we were tempted to do so. But having decided to test the full steaky potential, we had just a couple to whet the appetite.
The grilled haloumi, one of my favourites, was coupled with roasted mushroom, which worked a treat. The scallops and chorizo were just right too.
The mixed grill, which promised eye fillet, two sorts of sausage and a lamb cutlet, was tempting but I stuck to the purist ideal and went for a T-bone. Cooked exactly as I had requested, this was such a bloke's meal I thought I might have to rush out to grow a moustache. From more than a dozen sauces and butters I chose the "classic" creamy mushroom. This was adequate, without adding much to the dish.
Our other choice was the eye fillet, another terrific piece of meat, this time with the "classic red wine sauce", which did add a certain something. As we were being so traditional it would have seemed perverse to pass on the "hand-cut" french fries, which were crisp, tasty and so regular that the cutter must have a great eye. Our other side dish was a good watercress salad with flakes of Manchego cheese and mustard vinaigrette.
The dessert menu was standard from chocolate pudding to apple crumble. Our citron tart with strawberries with an attractive brulee finish was judged sound, which is some commendation from a connoisseur and executant of lemon desserts. I was pleased with my affogato, a meal ending of which I am so extravagantly fond I believe it should be compulsory on menus.
The wine list is large for what is essentially a steak house and there is a more than reasonable selection by the glass.
So: good surroundings, a lively set of customers and excellent food. Why, then, did we come away having had a less pleasant experience than expected?
It was a very hot evening and the place was busy but the staff seemed a little stretched. Although our first drinks arrived quickly, there was a long wait to order our meal and the process, which seemed simple, produced some confusion to which our waiter reacted with petulance bordering on the rude. The dessert menu was similarly slow in coming and order-taking even slower.
It is fair to note that when it was time for the routine "everything all right" question, our response was taken seriously by the young woman who asked and referred up the chain, suggesting our experience was uncharacteristic. But it was proof, if any was needed, that good food alone doesn't make the eating out experience.
Rating out of 10
Food: 8
Service: 5
Value: 8
Ambience: 8

Our meal: $149.50 for two first courses, two mains, two desserts and five glasses of wine.

Wine list: Our choices of the Whitehaven rose, Pepperjack 08 Barossa shiraz and a pleasant Pegasus Bay noble semillon were all enjoyable from a substantial list.

Verdict: Good, simple food in a bustling atmosphere and good value. Pity about the service hiccup.