Influential US photographer and interior design blogger Todd Selby is touching down in New Zealand next week.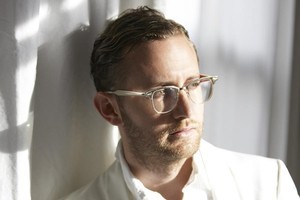 Todd Selby is a man of few words, via email at least. The New York-based photographer and interior design blogger has quickly become one of the internet's top-tier style bloggers, on a par with the likes of Jak and Jil's Tommy Ton, Bryan Boy and Garance Dore (in fact, they featured together in a Vogue story on influential front row bloggers).
But while they showcase the street style of various fashion industry figures at fashion weeks, or showcase their own fabulous fashion lives, Selby, or "The Selby" as he's known, photographs and showcases the interesting homes and spaces of a wide range of creatives, from fashion to food to film (he says he's not interested in fashion weeks). Or as he puts it on his website, "The Selby offers an insider's view of creative individuals in their personal spaces with an artist's eye for detail".
And it's time to give your home a Selby-worthy makeover - he's coming to New Zealand next week, where he will photograph homes and give an artist's talk.
Selby launched his website, TheSelby.com, in 2008, "for fun" as he explains in an email from a photo shoot in Mexico. Here, he would post detail-heavy photo sets of his friends' homes - a jar of marbles on a messy desk, cat ornaments on a heaving bookshelf, a collaged wall of images ripped from magazines, a collection of sunglasses - with a quirky hand-written, illustrated questionnaire at the end (sample question: what is good taste?).
His earliest subjects included fashion designers, authors, gallery owners and film directors, all creative New Yorkers with a penchant for thought-out chaos in their homes - that is, collections of things, lots of books, beautiful design with a touch of hipster irony (his earliest photo sets include references to Dolly Parton).
"Minimalism is pretty boring," he explains.
Author Tom Wolfe's upper east side home was one of the earliest Selby shoots; unused images from an earlier job that had sparked the idea of The Selby project. He had photographed Wolfe in his home for a magazine, which ran a traditional portrait of the author, rather than Selby's preferred detail rich images of Wolfe's stuff. Because as Selby explains, the little things "tell the big story".
This focus on stuff has become Selby's signature, images of interiors that are bursting with energy and personality. It found a natural, and large, audience online, who were curious about peeking into the world's of others.
Possibly what appealed to this audience was Selby's relaxed and casual approach to interiors photography - his subjects are often photographed candidly, doing things rather than posing, and he photographs homes as they are when he arrives.
"I very rarely move or change anything," he explains. The success of the site also means he is constantly asked by people to photograph their homes: he says he gets asked three times a day, and will visit 15 homes a month, which may or may not end up on the website.
And in case you are wondering if he'll come and shoot your home while he's in New Zealand; he usually finds his subjects via word of mouth or those who are friends of friends, and prefers homes with a sense of "maximalism".
Selby's online work and success has led to opportunities with other high-profile publications and companies, from Louis Vuitton to Nike to Habitat to Vogue Paris. He also released his first book, The Selby is in Your Place last year, which features 30 profiles of such high-profile fashion faces as Barneys' Simon Doonan, Purple magazine's Olivier Zahm, model and muse Lou Doillon, and designer Karl Lagerfeld.
How does one convince people of that calibre to let someone into their private space and showcase it for all to see? "Ask nicely and have a good sense of timing," is Selby's trick; being so high-profile himself probably helps too.
No word on whether he has asked the Obamas nicely; they are his current dream subjects.
Selby's work and success has clearly influenced a raft of photography websites that have popped up online in the past year or so, which borrow aspects from Selby's details-of-creatives aesthetic - like Where They Create (photos of creative spaces), The Coveteur (photos of fashion industry types' wardrobes) and locally, The World At Your Feat (photos of creatives' footwear).
But Selby isn't bothered, and seems relaxed about his influence; an attitude reflected in his explanation of why he admires photographer Juergen Teller - "because he does as he likes and I like what he does".
So what local creatives will get The Selby treatment?
We've heard that the shortlist includes interior designer Katie Lockhart, a family of winemakers in Queenstown and a local chef, among others.
He put a call out for "creative food people" on Twitter last week, but the only hint he'll give by email is "wait and see". We're thinking that he'll be more talkative when he visits next week.
VIP VIVA
While Todd Selby is in Auckland he will be holding an artist chat and presentation at The Department Store in Takapuna. This is an exclusive invitation-only event and Viva is delighted to have two double passes to give away to our readers. The event will be held from 7-9pm on Thursday, February 24. To go in the draw email your name, address and contact phone number to vipviva@nzherald.co.nz with "The Selby" in the subject line. Entries close February 21. Winners announced February 23.