A little retro, a little romantic, suddenly lavender seems so right.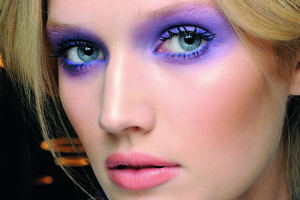 Lately I've been wandering round town in purple eyeshadow, hoping I don't look like a tragic old trout.
I don't like to rave about trends that I wouldn't at least try and this season there's no getting away from purple tones, particularly softer ones such as lavender. They're pretty, fresh and surprisingly wearable and they're showing up in many of the new season's makeup collections.
While I'm a firm believer in wearing what suits, rather than slavishly following fashions, this is one that's worth trying on for size. An eyeshadow is an easy update. So is lipstick: the newest shades are vibrant pinks, though there's a continuation of caramel nude colours, especially in high-shine gloss, and, of course, the classic reds that work so well in winter.
If you're keen on trying colour on your lids, keep it simple on your lips, you don't want the seven-year-old princess run riot look. If lavender and pink are most definitely not for you, by all means stick with old favourite shades or look out for coppery tones, these will be another key winter look coming up.
Coppers and pastel sorbet shades will carry through for spring.
What links these very different looks is a nod to the Seventies, when confident colour and sculpted cheekbones were the rage. Think the Charlie perfume girl - or Charlie's Angels - striding out in the sort of slacks and blazer combo that fashion is rediscovering also.
It's not a straight recycle though, as makeup textures have thankfully moved on and the idea is to reference rather than recreate a look.
As leading international makeup artist Charlotte Tilbury, who did the intense version of a smoked lavender purple colour wash for our main picture from the Etro spring-summer 2011 show, says: "The trick to keeping it contemporary and wearable is to apply a soft wash of pastel on your lids with a slightly smudged eyeliner to add a smoky effect, and keep the rest of the makeup natural and clean."
Terry Barber, another top makeup artist who works on the international runway shows, says: "I'm definitely feeling the direction for tough makeup done in very pretty colours - it gives an edge that's still very chic and beautiful."
Mixing a cool pastel with a slightly bronzed skin is very now, he explains: "Pastels really err on the side of a neutral ... if you usually do a beige you can certainly do a dove or a mint. They're not scary if you take them as a single element. If it goes multicoloured, you're probably going down a road you don't want to go down."
At its edgiest the lavender look is pretty with a punked-up undertone, as M.A.C says "more futuristic mod than mother-of-the-bride". At its gentlest it is just a simple sweep of colour that almost anyone can wear. Try pastels on the eye lids and crease only or keep colour to a surprise shade for eyeliner.
Showing how pervasive purple tones are - and how versatile they can be - they figure in new season palettes from most of the beauty companies. There's everything from dark berry to softest lilac grey, combined with both cool and warm complementary shades, making some variation of purple work for all colourings. Lancome illustrates even lavender can go either way. In its Ultra Lavande collection which recalls disco days, there's two eye shadow palettes with four colours each, three purple shades and either a gold or silver.
The final say goes to Tilbury, she reckons the right lavender is "universally flattering ... hypnotic and dramatic."
Stockists: Selected pharmacies and department stores. Rimmel at Farmers, K Mart, selected Warehouse stores or ph 0800 604604. Designer Brands at selected pharmacies. Stila at Mecca Cosmetica.