Karen Walker heads north with her latest collection, shown in New York last night.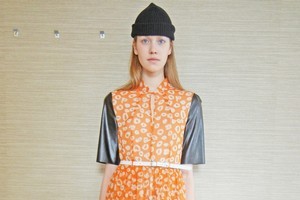 Karen Walker presented her latest collection in New York overnight, called "North" it's inspired by the Northern Soul dance scene. The designer continues her signature fascination with outsiders and sub-cultures, looking to Northern England's famous 70s disco, the Wigan Casino, as well as the Dexys Midnight Runners' album Searching For the Young Soul Rebels - think slogan patches (one reads "Karen's Soul Club"), midi-length hemlines, leather accents, loose fitting shapes and brogues. These exclusive behind-the-scenes images were taken in the lead-up to last night's show.
Walker has also painted a life-size fibreglass horse in support of the Breast Cancer Research Trust, which will be put up for auction.
The designer is among a group of 18 "interesting New Zealanders", which also includes actress Lucy Lawless, New Zealand's Next Top Model judge Sara Tetro and artist Billy Apple.
The horses are being unveiled today at Ellerslie's Barfoot & Thompson Twilight Summer Series race meet, and will tour around Auckland city for the next two weeks, before returning to Ellerslie for Auckland Cup Week in early March. Here, they will be auctioned off, with funds going to each artist's charity of choice.
Funds are also being raised with Facebook pages - the horse that gets the most "likes" will earn the charity a $5000 bonus. Walker's horse was inspired by the hot rod aesthetic, complete with flames.
On her Facebook page, she explains, "The horse is about high velocity and represents the velocity with which we're working towards a cure for breast cancer."