Herald on Sunday rating: 2/5
Address: 1/149 Oceanview Rd, Oneroa
Phone: (09) 372 7505
Website: waikitchen.co.nz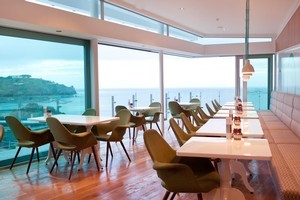 Not being a geologist, I cannot say exactly what kind of stones they were. I paid enough attention in Standard 4 science classes to know that they were either igneous or metamorphic, and not sedimentary, but after that I get a bit vague. So I don't know where they came from, but I know where they were: in my dinner, six of them, waiting to shatter a molar. Serve me right for ordering the vegetarian option.
Mistakes can happen in any kitchen, and it would have been unfair to highlight such a slip-up in a new restaurant, if it had been dealt with properly. If, say, the chef had come to the table to inquire, and had removed - at the very least - that entire dish from the bill, and shouted us a glass of something nice. Even apologised.
Here's what happened: the waitress - who I think was the co-owner - reported that the chef was "stumped, really stumped" as to how the stones got in the meal. (She sounded faintly sceptical, even suspicious, but that may have been my imagination). Later I sent the Professor to pay, since I didn't trust myself not to get a bit shirty. She reported the management's cheery assurance that chef had inspected very closely all the remaining servings of the dish in question, and pronounced them stone-free.
I couldn't help feeling that this wouldn't be much use to those yet to dine, since they wouldn't know what they'd been saved from. And it was no bloody use to us at all. But at least we were not charged for dessert - the cheapest choice - the $9 affogato, which comprises three small scoops of icecream and candied nuts over which you pour an espresso. Gee, thanks, guys.
Wai, the newest eatery on the island, was in its fifth night of operation when we went, but it had been open in the daytime since before Christmas - so teething (ouch!) troubles should have been over. Positioned as it is, in the glassy new complex in the middle of Oneroa, it's pretty much guaranteed to succeed.
The fitout, aquamarine and white in a kind of mod 50s look, is very handsome and the view, over the beach to Great Barrier in the distant northeast, is as good as any restaurant's I can think of.
The owners are Steve (the chef) and Sarah Vanderput, whose daytime-only Teed Street Larder in Newmarket is very highly regarded, although I have not tried it. Chef Steve has cooked, among other places, at Cafe on Kohi, which does the best breakfasts in the universe, so we were expecting good things.
Alas, we didn't get them. For even the stone-free food at Wai that night was barely second-rate. The "sardine beignets" were small crumbed croquettes of grey fish paste, as dry as a Zen pun. They were accompanied by a greasy green mayonnaise which I know contained mascarpone and watercress only because I asked: it tasted like moisturising ointment. Three accompanying tiny squares of haloumi were stone-cold.
The Prof had better luck with slightly juicy scampi tails, served with broad beans (surely frozen at this time of year?), although the accompanying black pudding is a 2007 idea.
But the mains disappointed. Roasted snapper fillets were fine but came with a small stringy mess of shredded ham hock which was virtually tasteless. The accompanying peas may have been fresh but they had the telltale dimple of the thawed variety. There was also another gloop of that "mascarpone purée" - perhaps a signature flourish, it seemed like a failure of imagination.
Meanwhile my "kumera [sic] rotolo" was ungenerously filled - it was folded like an omelette rather than bulging with filling as stuffed pasta should be - and it tasted even less appetising than it looked. Its very greasy mouth-feel was not helped by the scattering of deep-fried sage leaves and if there was any kumara there I could not find it, although I found pumpkin among the pebbles.
In all, an unprepossessing start, although things can presumably only get better. If there is a good restaurant in downtown Oneroa I'd love to hear about it, because I'm still looking.
Ambience: Retro chic
Vegetarians: One (dangerous) main on this menu
Watch out for: Mineral deposits
Bottom line: A room with a view
THE BILL
$136.50 for two
Scampi: $18
Sardine Beignets: $17
Snapper: $35
Kumara Rotolo: $29
Wine (3): $29.50
Dessert (not charged): $9
Tea (2): $8