Surfing is an ideal sport to improve your fitness, but it can take over your life. Susan Edmunds finds out more.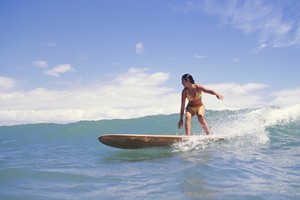 For a lot of surfers, surfing is not just a sport. Described variously as an art form, a religion and a lifestyle, enthusiasts dedicate their lives to searching for the perfect wave.
But from a fitness perspective, it is also a great summer sport offering a full body workout and - once you have a board - involves very little ongoing cost.
If you're lying on your beach towel thinking it looks effortless - think again. Surf instructors say it is important to be an experienced, strong ocean swimmer before trying to learn to surf. As well as dealing with the waves, you'll have to combat undertows, rips and currents.
Martin Wallis from Muriwai Surf School says the biggest mistake anyone can make is underestimating the power of the ocean and overestimating their own ability.
"The ocean is too big and strong to fight, you have to learn to work with it."
Start off with small waves and never go into water that you would not be confident swimming in. Stretch and warm up before you head out on to the water to avoid cramps and muscle injuries.
Martin says almost anyone can surf. "You just have to want to learn."
It is not necessary to be super-fit but surfing involves a lot of paddling, so upper-body strength is necessary. You also need to be able to swim back to shore if you lose your board - not always easy if there is a big swell. Working on your cardio-vascular fitness and endurance is helpful too, as getting out the back of the waves can involve long stints of hard paddling. You don't want to get "caught inside" the breaking waves, and be pummelled back to shore. Build paddling fitness simply by paddling up and down a beach on a calm day.
New surfers should have at least one lesson with an instructor. It is possible to teach yourself, but having guidance from a professional will make the process much faster and more enjoyable. Martin says people can start to surf with a 90-minute lesson but he stresses that for most people, it's an ongoing thing. "I have committed over 30 years of my life to learning to surf, or as I would put it - surfing."
It requires dedication - getting out on the waves as often as possible is the only way to get any better at it.
Hire a board rather than buy one when you are starting out. Surfers recommend getting the best board you can afford, and it could end up being a costly mistake if you find you do not enjoy it or have enough time.
Have an idea about the rules before you head out on the waves. Always makes sure you aren't taking anyone else's wave: the surfer who is closest to the whitewater has the priority. If you are on a wave and about to wipe out, get rid of the board. You're more likely to be injured if you're being washed around with your board.
Martin says people do not need to bring much to his surf classes. "Just togs, towel and your enthusiasm."