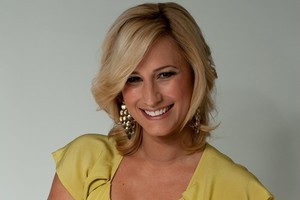 Pippa Wetzell. Photo / Supplied
New Zealand males have spoken - Pippa Wetzell is the country's most desirable woman, a study by Colmar Brunton shows.
The former TVNZ Breakfast host and mother of three has been voted the country's most attractive woman by 28 per cent of fathers (average age 55) and 15 per cent of teenage sons aged between 15 and 19.
Rachel Hunter came in second with 19 per cent among both dads and sons and TV3's newly appointed Australian correspondent Samantha Hayes took the third slot with about 10 per cent of the combined vote.
The director of youth insights at Colmar Brunton, Spencer Willis, says the results suggest New Zealand men desire women who are not only physically attractive but successful, down-to-earth and representative of wholesome values.
"I think it's more a basic instinct than necessarily Pippa is incredibly attractive or that she is blond or that she manages to keep Paul Henry in check.
"Obviously she [Wetzell] is attractive but also, dare I say, has those mothering qualities."
Wetzell gave birth to her third child, a boy, nearly two weeks ago.
"I'm feeling anything but desirable at the moment, but thank you, it is very flattering nonetheless," she said.
The survey revealed fathers and sons not only have the same penchant for motherly figures but also agree the most pressing issues facing New Zealand are drink-driving and the cost of living.
Both age groups agree All Black captain Richie McCaw is the best role model for young men in New Zealand.
Mr Willis said the similarities between the two ages groups might be because today's fathers were more involved with child-rearing than they had been in previous generations.
Most fathers surveyed thought they were better parents than their dads but when it came to the teenagers, many said they were concerned they would not be able to live up to their own father's example.
However, generational differences played a part in the favourite websites and TV programmes. A total of 57 per cent of teenage sons voted Facebook as the first website they visit, while 19 per cent of dads voted for Trade Me.
Chuck was the most popular television programme among sons, while fathers preferred Outrageous Fortune.
HOT HOTTEST
* 28 per cent of fathers and 15 per cent of teenage sons voted Pippa Wetzell New Zealand's most desirable woman.
* 19 per cent of both groups voted for Rachel Hunter and 10 per cent for Samantha Hayes.
* 74 per cent of fathers and 81 per cent of sons would rather be stuck in a lift with Nikki Watson than Helen Clark.
* 26 per cent of both age groups voted Richie McCaw the best role model for young men today.
* 57 per cent of teenage sons voted for Facebook as the first website they visited after work-related tasks while 19 per cent of fathers preferred Trade Me.
* 27 per cent of teenagers would rather have dinner with Paul Henry than Prime Minister John Key.