Herald Rating: 3/5
Address: Upstairs at Mini Garage, 130 Ponsonby Rd, Ponsonby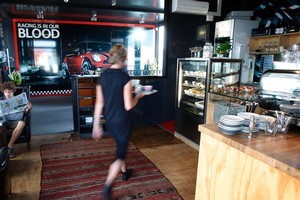 We came here because we'd heard it was run by the folk at West Lynn's Savour and Devour. Plus my mate's 2-year-old was intrigued by the upside-down vehicle - or "underneath car" - stuck to the ceiling.
Parking was around the back, alongside a big range of you-know-whats.
We walked in and immediately thought what a peaceful alternative it is overlooking Ponsonby Rd one floor up, as opposed to sipping coffee at road level.
The most unusual thing on the menu was the vanilla risotto with poached plums and pistachio ($14.50).
We ordered the empire eggs with spicy lentils and tomato ($15.50), the mince on toast ($13.50), a corn fritter ($8.50) with a side of spicy Thai salad ($4) from the cabinet, and jam toast ($7.50) and a fluffy ($1) for Wolf. The eggs were baked in a little pottle and came served with toast and lashings of coriander - a simple dish, light and flavoursome. The mince came with yummy brioche-style bread and cheese and was devoured before I got to steal any but the fritter came second fiddle in the flavour stakes to the zingy Thai salad.
The toast and fluffy went down a messy treat.
The service was sweet - literally. It was a quiet day, explained our friendly waitress, so would we like to try a selection of fruit brioche and Portuguese donuts on the house? Yes please. Can we get a car with that?
The coffee was good enough to order a second.
We recommend if you come here be prepared to try something different. The menu includes coddled eggs, Welsh rarebit, tortillas and grilled eggs in a nest.
Overall we thought Hubcap deserves credit for its daring menu, and while the food itself is relatively simple, we liked feeling close to the action without the engine noise you'd expect from a cafe in a car yard.