Ruth and Mark Hill have lived in Gulf Harbour for just over a year. Mark is the branch manager for a transport company in Mt Wellington, and Ruth is a full-time mum to their 21-month-old son Lachlan. They tell Sarah Lawrence what they love about the area.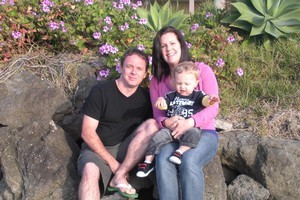 Ruth:
Many people think Gulf Harbour is a place you go to retire, but a lot of young families live here now because the schools are so good and the peninsula beaches are safe for kids - they are almost lagoon-like.
In fact, the beaches are what I love most about living here. There are six within a short distance of our home. I take Lachlan to the beach nearly every day. I can choose which beach to visit depending on where the sun is sitting and the wind is blowing. If it's too windy on Big Manly I can go to Matakatia. In the afternoon when the sun is setting I go to Tindalls. There is always a perfect option to suit us at any point in the day.
The other thing I love about living here is that it's so relaxed, like everyone's on holiday. We've also noticed how warm and friendly the community is ... everyone is so welcoming. Even the girls in the chemist wave out to me when I pass by now. I feel like we really belong here.
Mark:
I moved to New Zealand from England six years ago where I was living in a terraced house in southeast London - think Coronation Street.
I took a year out in 2002 and travelled the world, which included a visit to New Zealand. I fell in love with the people and the lifestyle so I returned to London, sold up and returned. Then I met Ruth and the rest is history.
People told me I was mad to live in Gulf Harbour when I work in Mt Wellington but to be honest, I'm already used to commuting after living in London. The morning trip takes about an hour, but I do leave at 5.30am. If the traffic's really bad it can take a couple of hours to get home at night. The way I look at it, it's the price you pay for living out here and it's definitely worth it.
Ruth:
We're a fan of the quaint little local cafes, like Sparx Cafe in Manly, which is great to visit for breakfast and is very child-friendly. We also enjoy dinner at Carpe Diem down at the marina. It comes alive at night down there, it's almost like a "Mini-Me" of Auckland's Viaduct.
Outside the pet shop there's a resident cockatoo everyone knows - he sits on a shopping trolley and chatters to people as they walk by. That's the kind of thing we love about living here ... the little touches that give you a real sense of community.
Ruth's picks
* Sparx Cafe, Manly
54 Rawhiti Rd, Big Manly
Ph (09) 428 2211
Watch your own woodfired pizza cooked before your eyes.
* Carpe Diem
154 Harbour Village Drive, Gulf Harbour
Ph (09) 424 6250 Great atmosphere, and the best Beef Wellington ever.
* Tindalls Beach
Off Whangaparoa Rd
Great safe lagoon-like swimming for families.
* Stanmore Bay Park
Brightside Rd
Awesome playground for kids, complete with spider net