Cut through sickly sentiment with expressive new fragrance choices.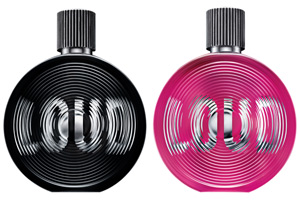 Matchy matchy
Some couples are just so joined at the hip that twin fragrances are bound to appeal. Sometimes matchy matchy scents don't seem to have much in common besides the name on the box, but mostly they share ingredients combined differently to suit the supposed preferences of women for sweeter notes and men for crisp or woody aromas. Increasingly, there's more of a crossover approach to fragrance design - and advertising - allowing boys to come over all fruity and girls to get earthy. This isn't the same as the unisex trend of the 1990s, where fragrances floated into an androgynous ether, the new ones are rather more assertive. Two such matchy matchy examples are Loud and Play which are also both heavy on pop-culture references.
Patchouli and a hint of rose are the common ingredients in Tommy Hilfiger's new Loud, which is packaged to recall vinyl records. For Her includes lychee in the heady mix and For Him there is a twist of tobacco. The campaign is fronted by London models Daisy Lowe and Josh Beech and features music by The Ting Tings.
(Loud is priced from $65 for a mini 25ml bottle and comes in three sizes up to $135 for a 75ml eau de toilette).
Givenchy looks to the iPod generation for the rounded bottle design of Play, fronted by Justin Timberlake with, for the women's version, Canadian model Noot Sear on his arm. For Her there's an eau de parfum in a slick pink case with a silver side at $123 for 50ml and an Intense version in a purple case for $132, both woodsy floral with mellow Amyris at their heart. The original Play for men has been supplemented by an Intense version also, the former costs $103 for 50ml, the latter $110.
Other match matchy options are Prada Iris, a green-yet-powdery floral that works well in both male and female versions and stacks of his/her choices from Calvin Klein.
Mini moments
Fragrance minatures were once the preserve of duty free stores and budget brands, now they are a growing market - perfect for fickle fragrance fanciers. If you're not a heavy user or are unsure how much you or a gift recipient will like a scent, then consider downsizing. Even though some of the smaller bottles actually work out more per spray than the bigger ones, at least by selecting 30ml or smaller it won't sit around and go stale and you'll be spending less than $100 rather than potentially more than $200 for some 100ml bottles.
Among the classiest of the smaller bottles out there are the new 25ml Jewel Charms Collection from Bulgari. The purse spray comes in little satin pouches to pop into your handbag in a choice of Jasmin Noir, Rose Essentielle, Omnia Jade and BLV. The bottle shape is inspired by the rounded "cabochon" ring cut seen in many of the jewels that made the Bulgari name. (Available for $79 from department stores and selected Life pharmacies).
Issey Miyake has also introduced A Scent, L'Eau d'Issey and Pour Homme in various small sizes, including 25ml, 30ml and 40ml bottles, with prices from $70. They're out this month along with value-added Valentine's Day gift sets. The Jean Paul Gaultier fragrance range is also doing 20ml, 30ml or 40ml sizes of Classique, Le Male or Ma Dame from $72 and has a gift, with any two purchases, of a mini-mini set of twin 3.5ml torso bottles of Classique and Le Male.
Juicy Couture's Viva La Juicy has a new 30ml travel edition eau de parfum in a smart gold metal case at $101 and Mariah Carey's Lollipop Bling has got even more dinky, down to a 15ml size in an eau de parfum spray for $35.
Say it with a scent
Here are a few ways to play the name game with new fragrances: Beauty by Calvin Klein, a gentle floral, 50ml eau de parfum $149; The One Gentleman by Dolce & Gabbana, a sophisticated, manly choice, 50ml eau de toilette $115; Seductive by Guess, a woody floriental, 50ml edt $70; Wild Elixir by Estee Lauder, a lush floral limited edition, 50ml edt $99; Hypnotic Poison Sensuelle, a softer, rounded version of the full-on Dior original, 50ml eau de toilette $138; Pleasures Bloom, a summery, fruity floral from Estee Lauder, priced from $95.
Like, whatever
If you'd rather say it with a gift than spit out the words, then Love Etc ... is the very 21st century name of a fragrance range The Body Shop brings out each Valentine's Day. New this year is a cute little heart-shaped tin of solid perfume for $27. It smells of jasmine, vanilla, sandalwood and musk. The Body Shop also offers other natural and fair-trade sourced gift choices, including its Strawberry selection for girls and White Musk for men.
Imperial choice
Napoleon Bonaparte favoured Rance scents and to honour the Emperor this more-than-two-centuries-old fragrance company introduced a scent called Triomphe that is still available today. It's a unisex citrus, rose and orange blossom mix with cedar and musk. For her, there's Eugenie (pictured), a lily of the valley scent named after the empress, and another named after Napoleon's first love, Josephine.
Rance was originally based among the floral fields of Grasse in the south of France. The company is now in Milan, but still family-owned. Find this and other heritage scents at World Beauty stores.