Chelsea Jade Metcalf is a talented Aucklander with a unique outlook.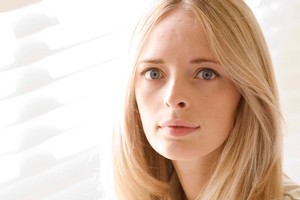 Singer and photographer Chelsea Jade Metcalf is the type of woman who wears a cape while riding a bike, counts Claudia from The Baby-sitters Club book series as a style icon, and once kept a bow tie in her purse just in case. Currently working on a solo record, Metcalf is in a folk band called Teacups, and sings the incredibly sweet We're Like Balloons in Telecom's Sunrise, Sunset ad. She also features in the latest Madame Hawke journal with her friend, actress Chelsie Preston-Crayford. She guides us through her style, which she describes as "stern romantic".
How would your best friend describe your style?
Like a freshly laundered sheet. That, and "sock thief".
Who is your ultimate fashion plate?
Claudia Kishi of The Baby-sitters Club. Or rather, the ghost-writers who concocted her zany ensembles on the regular: "Her hair was pulled back with a barrette in the shape of a set of teeth." She's the original Tavi Gevinson: Teen Savant.
What do you like to wear when performing?
A slightly unhinged version of myself - "casual spooky".
Describe the best outfit you've ever worn.
A battle between an 8-year-old me in a mother-made Sailor Moon outfit, a 21-year-old me in a meerkat onesie and a purpose-built star costume I wore for a friend's music video.
Who are your favourite designers?
Madame Hawke, Sherie Muijs and Juliette Hogan. They're each peering at femininity through different telescopes.
What is your handbag - and what's in it?
A boxy brown leather case with a confusing clasp situation. For a spell it housed a bow tie in case I was invited to a formal occasion. Otherwise, just the regular nonsense - purse, keys, stray bobby-pins ...
What is your favourite decade, style-wise?
Now. So much of what goes on is informed by what has already been, and there's such a variety of aesthetics to drink in.
Currently on repeat on your iPod?
I've been listening to the rough mixes for my own record.
What is your fragrance?
A dab of vanilla essence.
Which other artists do you most admire?
Chelsie Preston-Crayford is a stunning actress and an utterly charming potty-mouth. James Duncan (Dimmer, SJD) and Reuben Stevens (Artisan Guns) are my favourite local musicians.
Your favourite stylish place?
I love the nooks of Cornwall Park and the organised deposits of tree-life.
Where do you like to shop for clothes?
Opening Ceremony in New York was a mess of awesome. I went to the sample sale and it was like a lolly-scramble for adults.
What is your most cherished item in your wardrobe?
My collection of old dancing shoes. They remind me of when I was self-possessed and almost graceful.
Favourite fashion-y movie, or fashion moment in film?
90s rom-coms ala Meg Ryan and her nemesis in French Kiss and Marisa Tomei in Only You - among countless others.
What are you wearing?
Madame Hawke "Minnie" skirt and a shirt Wendy Darling might wear.