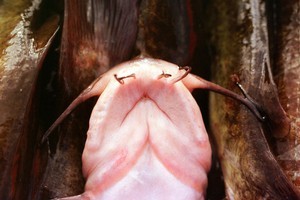 This year's catfish cull saw only 500 catfish culled - half that of last year. Photo / Richard Robinson
The best snapper fishing is still in close, with good-sized fish up to three kilos coming from water as shallow as 10 metres. The best time seems to be in the first hour of the incoming tide, from as soon as the current starts moving. In fact some spots have also been fishing well over slack water. These include the middle of the Motuihe Channel and on the city side of the Rangitoto Channel, off Cheltenham.
Berley is also essential, particularly when fishing out in open water where there is less current than in the channels. One trick is to start with a mussel-kina berley mix which disperses quickly, then change to a tuna berley. But if fishing is steady and it then goes quiet, the odds are the berley has run out and needs replacing with a fresh bomb. Some anglers will even start with two berley bombs in the one container to get the activity started.
The big annual Whakatane fishing tournament which was changed this year to remove the emphasis on tuna was cancelled because of the poor weather forecast last weekend.
It is now the Four-Way Twenty Thousand Dollar contest, with prizes of $5000 each for the largest marlin, snapper, kingfish and tuna. When fishing contests are cancelled the prizes are usually allocated by drawing ticket numbers, and it becomes a lottery. But all except eight of the 480 ticket holders agreed to carry over their tickets to next year's event.
Marlin action continues on both coasts, and the annual Counties Sport Fishing Club's four-day one-base tournament ends today. Hundreds of anglers are competing for prizes in sections which cover snapper, kingfish, gurnard, marlin, sharks and yellowfin, skipjack and albacore tuna
Some lovely trout in the 3-3.5kg range are coming from Lake Rotoiti, and the Hinehopu area has been fishing well to small smelt patterns on jigging tackle. Stream mouths on Lake Rotorua continue to fire, and the Ngongotaha Stream will be holding some large brown trout.
The stormy weather has given back-country rivers a rest from angling pressure, and when conditions allow fishing should be excellent as a result. Continued rainfall has also reduced the fire hazard in the Kaingaroa Forest, and access will be opened up for anglers this weekend and next weekend.
The brown bullhead catfish in Lake Taupo, which are regarded as a noxious pest to be eradicated where possible, were the quarry for the second annual catfish cull by spear fishermen last weekend. Last year the event saw about a thousand catfish speared, but numbers this year barely reached half that number.
"Whether the catfish are getting more spooky or there are not so many in the lake - we don't really know," said one of the contestants, Matt Lind.
The winning pair of John Anderson and Reid Quinlan brought in 79 catfish, while the next best score was only 30 fish.
"There were about 50 spearos," he said. "But we had a good barbecue and some of the boys cooked up a bunch of catfish, and they taste as bad as they look."
In the southern states of the USA, where catfish are regarded as a delicacy, they are served with lashings of spicy hot sauce.
"They definitely need a lot of hot sauce," added Lind.
The catfish hunt was based at Stump Bay at the southern end of the lake, where most of the catfish are found, and they have not spread throughout the lake.
More fishing action can be found on Rheem Outdoors with Geoff, 5pm TV3, and on the new internet television channel, fishnhunt.tv.