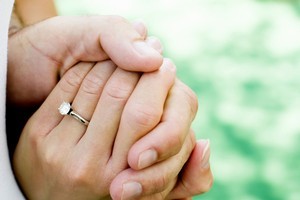 Martin Devlin's public "spat" with his wife ruined my marriage. Well, nearly.
It's a long story but the same morning that Martin and his wife weren't speaking outside the Auckland ferry terminal, my wife was smashing a second packet of spiral macaroni over my head in a nearby Foodtown.
I would like to say that it was her fiery Italian blood that contributed towards this public display of non-affection, or PDNA, but she's not Italian.
She's from Hamilton, though Italian food products tend to be her weapon of choice when she is doing this kind of thing.
This is not the first time she has attacked me with pasta. She once tipped a hot seafood marinara over my crotch and this was followed by a very smooth bottle of Chianti, which was tipped over my head.
I told the dating agency the next day and they didn't seem all that surprised, although they did pay the cleaning bill for my suede pants.
Cutting a long story short, three weeks later we were married.
What can I say? I would rather have a passionate relationship with huge dry-cleaning bills than a relationship that needed very little dry-cleaning at all, if you know what I mean.
I can't recall exactly what had transpired for her to bludgeon me with pasta this time, but I think it had something to do with me not understanding, or being fully aware of, her emotional needs.
Maybe "sleeping" with my secretary contributed. Before I continue, I should clarify the "secretary" line.
It was a misunderstanding and one thing you need to learn when you are in a marriage is not to believe everything you see, just as you shouldn't believe everything you read in the papers.
What actually happened was far more innocent, though just as erotic. My secretary accompanied me as I was choosing a new bed at Bed World. I wanted to try the bed for myself before I parted with the initial $15 on a five-year interest-free payment plan, and I asked her to lie beside me to test the roll-together factor.
For realism the salesman suggested we take off some of our clothing so as to not get false readings from large coats, shoes and, in her case, a boob tube.
I also wanted to get a general indication as to how the bed would perform when my wife and I were actually performing, as we have an active sex life. Naturally we walked through some rudimentary positions. It was very basic stuff: missionary, girl on top and the A.J Hacket.
This, of course, was all conducted under the adult supervision of the sales rep who even offered tips and ideas.
But, unfortunately, one of my wife's friends was also in the store and witnessed the whole thing. She captured some images on her cellphone. These images got back to my wife, who saw them out of context.
Anyway, we bought the bed and my wife loves it. She realises it was all a misunderstanding, but the story doesn't end there.
How does this relate to Martin Devlin?
While Martin's name was suppressed we knew only a 46-year-old was involved in some sort of marital dispute on a particular date.
My wife assumed it was our incident, that as a major household name I was later charged with throwing pasta around a supermarket.
More importantly she assumed throughout our marriage I had been lying to her about my age, claiming to be younger than I actually was.
Clearly I am not 46, far from it. In fact, I am not even 40 yet. Some say I don't even look 30.
Obviously, since Martin spoke publicly about his incident a few days ago, everything has been cleared up and we can get on with our lives.
It just goes to show you can't always believe what you see, or what you read, especially if it is the bold claims written on the side of laundry detergent boxes.
I don't care what they claim; there is no way a large seafood marinara stain is coming out of those camel suede pants.