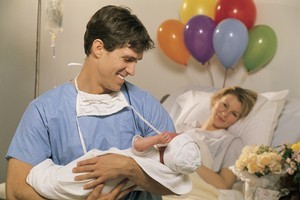 SYDNEY - Fathers hoping to record the birth of their babies will have to rely on photographic memories now video cameras and mobile phones are increasingly being banned from maternity hospitals in the Australian state of Victoria.
Expectant parents have been barred from taking the hand-held recording devices into birthing suites because hospital staff are concerned about possible legal repercussions and staff privacy.
Melbourne's Herald Sun today reported the births could no longer be videoed in several facilities - a month after the newspaper revealed that in 2009 almost A$20 million ($25.97 million) was paid out to families whose babies were subject to bungled births in Victoria's public health system.
The bans have drawn a mixed reaction from mums, with many saying it should be a woman's right to have the birth of their child filmed if they wish.
Amanda Cox, 39, said she wanted her husband to video her son Charlie's birth at Freemason's Hospital, but they were not allowed to.
"I had a caesar, so I couldn't see anything that was going on, so I wanted a video," she said.
"I would like to see it being less strict, but I would also like to see fewer people with the concept of suing on their mind as well."
Medical indemnity insurer Avant claims general manager Lisa Clarke told the Herald Sun medico-legal concerns over footage being used as evidence played only a small part in advising hospitals to ban video recorders.
The potential for filming to interfere with the birth or distract staff were more pressing concerns as was the inability of a cameraman father to properly support the mother during the birth and staff privacy.
Melbourne hospitals to ban filming during delivery include the Royal Women's, Sunshine, Sandringham and the Freemason's.
It is also discouraged at Mercy Hospital for Women and Monash Medical Centre.
- NZPA