The opportunity to buy an admired holiday home was one family's good fortune.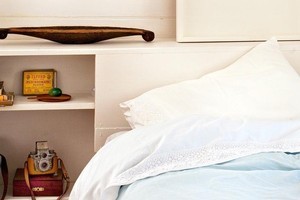 When a friend decided to sell his bach at the foot of Little Mount Peel in Canterbury, Julian Apse snapped it up - and then told his wife-to-be, Nikki.
"We knew the house well and had always admired its beautiful bush setting and views," says Nikki. "Bob McLaughlan purchased a piece of land over the road and decided to sell the property - and Julian jumped at the opportunity to buy it. He came home a few days before our wedding and casually announced we now owned 'Bob's house'."
Not only has the house been an idyllic retreat for the couple and their two children, George, 4, and Lucia, 2, it has also been a source of inspiration, especially for photographer Julian who uses it as a place to escape to, indulge in his outdoor passions and recharge after the rigours of commercial photoshoots. The two-bedroom wooden bach was built more than a century ago and when Julian and Nikki bought it in 2004, it needed a bit of work.
The couple re-piled the floors and improved the layout, including building a large deck.
Their brother-in-law Matt Stevenson, a builder, helped make the bach more functional by taking out an internal wall to transform the kitchen, dining and living rooms into an open-plan area. French doors were added to the lounge and the main bedroom was opened out to the deck.
"Julian was big on opening the space to the outside and landscaping to maximise the views," explains Nikki, a graphic artist and designer. "I love making things and this includes creating interior spaces that inspire me, offer a sense of calm and make me feel happy."
The wall between bathroom and toilet was removed to make one room, which was revamped to make better use of the space.
The renovation was done with due respect for the bach's character and the couple was careful not to add anything jarringly modern. "It has a wonderful personality and charm we didn't want to tamper with," says Nikki. "We wanted to keep character features like the interior panelling and rough-sawn weatherboard walls."
They also pulled up the carpet and had new carpet squares made for the bedroom and living areas so they could still see the rimu floorboards around the perimeter of those rooms.
However, they left the kitchen cabinetry alone. "We love its style and the blue on the cupboards is a colour we would have chosen anyway," says Nikki. "They are in good condition for their age. Sometimes it's nice to go back to basics and live without all the bells and whistles of modern-day living."
Style tips
Artistic tradition: Building a collection of art takes time and dedication. "Each year on our anniversary we take turns to buy a new work," says Nikki. "We have quite different tastes in art."
Signature style: When it comes to interiors, Nikki doesn't subscribe to a specific era or decorating genre. "I like to assemble things both old and new and create a home that is distinctly ours. I will often base an interior scheme around one central piece, such as a painting, and evolve it from there."
Getting warmer: The Peel Forest area is very hot in summer and very cold in winter so Nikki and Julian installed under-floor and ceiling insulation during their renovation.
Leanne Moore is the editor of Your Home & Garden. See the latest issue, on sale now, for more achievable home ideas.