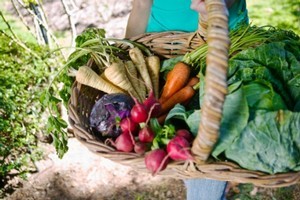 Has the novelty of tending to your now-overgrown vege patch worn off?
This week's recipe is a great way to use those forgotten summer vegetables. Best of all, it's a quick, simple and healthy alternative to fish 'n' chips on those muggy evenings when you can't be bothered slaving over a hot stove.
Phillip Russell, of the New Zealand Chefs' Association, says these summer vegetable pizzas will cleverly disguise what you know is good for you but often gets neglected in favour of salty, fatty fast foods.
"This recipe will allow you to use some of those vegetables in the garden that are growing out of control."
Ingredients:
4 medium wholemeal pita breads
2 tomatoes, skinned, seeded and pureed with 1 tbsp of sugar to form the base sauce
1 cups grated cheese
1 red onion (or cup spring onion, chopped)
2 capsicums, cut into fingernail-sized chunks
cup broad beans, blanched (or any other type of bean from the garden)
12 cherry tomatoes, halved or quartered, depending on size
Fresh basil
Method:
Preheat the oven to 220C. Place the pita breads on two baking trays and spread evenly with the tomato puree sauce. Sprinkle with the cheese, then the onion, capsicum, beans and cherry tomatoes.
Bake for 10-15 minutes, or until the base is crisp and the vegetables tender. Garnish with the basil.
Tip: Just about any vegetable can be used for these pizzas, but be sure to blanch them first.