One of New Zealand's best-loved chefs has updated some of our favourite recipes with a healthy twist.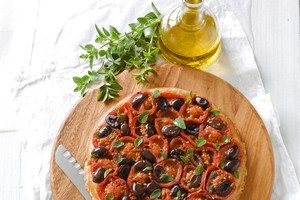 Julie Le Clerc has long been known for her innovative cooking and trusty recipes but her latest book, Made by Hand, goes a step further by re-figuring old favourite recipes into healthier versions, without losing flavour along the way. In a nod to current health needs - or fads - recipes are tagged with a dietary requirement so that harried cooks can cater to their guests' needs for gluten, wheat, dairy or egg-free and even for vegans (some recipes have more than one alternative). As always, Julie packs in flavour, ensuring cooks don't have to put up with boring or tasteless, and can make the most of natural ingredients prepared simply.
Julie also dips into our craving for more natural ways to run our households the way our nanas did, with sections on the natural pantry, staring a kitchen garden, recycling and reusing, eco cleaning and more. This summer tart makes the most of fresh-from-the garden tomatoes and a flavoursome pastry that can be used for any quick lunch tart or pie.
Upside-Down Tomato Tart with Olive Oil Pastry
Serves 4
12 small vine-ripened tomatoes
3/4 cup plain flour
1/2 cup wholemeal flour
1/4 tsp salt
2 cloves garlic, crushed
1/4 cup olive oil
1/4 cup boiling hot filtered water
Extra flour, for dusting
1/2 cup quality black olives, cut in half and pitted
Olive oil, to grease pan
Salt and freshly ground black pepper
1 Tbs fresh oregano leaves
Olive Oil Pastry
A simple tart filling like this relies on beautifully flavoured tomatoes, so choose deep red, vine-ripened fruit. Olive oil replaces butter in this pastry and while it looks more rustic than standard pastry, it has a good texture that complements the bold, juicy, sweet tomato flavour of this upside-down tart. It's dairy and egg free, vegan too.
1 Preheat oven to 200C. Cut tomatoes in half and place, cut-side down, on several layers of paper towels. Leave to drain for 10 minutes.
2 To make the pastry, place the flours and salt in a bowl and make a well in the centre. Add the garlic to the well. Pour the oil and hot water into the well. Mix together with a wooden spoon just until the mixture forms a ball of dough.
3 Turn dough out on to a work surface dusted with flour and knead briefly until smooth. As this is a hot-water pastry it does not need to rest. Roll out pastry so it's 3mm thick and 26cm round. Prick the base all over with a fork.
4 Lightly oil the base of a 24cm frying pan with an ovenproof handle and scatter with olives. Arrange tomatoes on top, cut-side down, packing them in firmly to fill the pan. Place pastry on top of tomatoes, tucking in the edges to fit neatly. The slight excess of pastry allows for shrinkage during cooking.
5 Bake for 35 to 40 minutes or until pastry is crisp and golden brown. Remove from oven and stand for 5 minutes, then invert the tart on to a serving board or plate. Season with salt and pepper and scatter with fresh oregano.
* Tomatoes are a rich source of vitamins A and C and contain a powerful antioxidant called lycopene, which studies show may help reduce the risk of cancer and heart disease. To absorb the benefits of lycopene, tomatoes need to be cooked with a touch of oil, as lycopene is fat-soluble. When buying tomatoes, choose the reddest fruit you can find, as the yellow and orange varieties lack lycopene.
Never store tomatoes in the fridge, as this impairs their ripening ability, taste and texture.
* Reprinted with permission from Made By Hand. Published by Penguin Group, $52. Copyright © Julie Le Clerc 2010
Be in to win this cookbook
We have one copy of Made By Hand by Julie Le Clerc to give away.
To enter the draw, email your contact details to life@nzherald.co.nz with "Made By Hand" in the subject line by Thursday January 27.