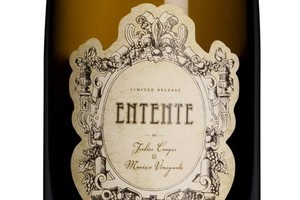 In the course of any vintage there are always a handful of wines that seem to come out of nowhere.
Whether you call them out of left field, gifted, different, unusual or bordering on bizarre, they all share a unique quality: the ability to stand out from the crowd.
Some may come from tiny producers obsessed with excellence, some from new boys on the block who surprise even themselves with their first vintage, others may emerge from established winemakers who dare to veer away from the tried and true and deliver something unexpected.
Brent Marris is undoubtedly one of this country's best producers and marketers of wine. From his time at Delegats and Wither Hills he forged a reputation as an extremely smart operator going on to create his own labels, The Ned and, latterly, Marisco Vineyards. Entente, a limited edition white wine, is a collaboration between New Zealand fashion icon, Trelise Cooper and Marisco Vineyards. Cooper designed the label, Marris designed the wine. High fashion meets fine wine. Marris is coy about the components of the highly aromatic wine."It's an innovative, unique blend, capturing the seductive fragrances and extraordinary texture of the prestigious aromatic varieties of the world," he says.
Phew. Despite the hyperbole, it works. A blend of chardonnay, gewurztraminer, pinot gris, riesling and an obviously dominant viognier, it's a lovely drop.
Speaking of lovely drops, who would've thought that Stillwater, 30 minutes north of Auckland, could emerge as a stunning new wine-growing region?
On debut, the 2008 Messenger is one of the best New Zealand reds I've stumbled across. Messenger wines was established by Paul and Cathy Syms in 2004. Immigrants from Britain, the Syms say they came "for the lifestyle and growing grapes seemed a great idea".
A blend of merlot, malbec and cabernet franc all cultivated from Jim Vuletic's Matakana Providence Estate, the wine is truly exceptional. What's in the bottle is as smart as the understated label but given the relatively high price you would expect something special.
Says Syms, "It's difficult to find people who are prepared to pay for top quality wine. We market it ourselves at messengerwines.com and Antoine's restaurant in Parnell have just taken it up." Entente and Messenger are wines of distinction and sheer class.
Recommended
2009 Entente $50
Marisco Vineyards made only 200 cases of this viognier-dominant wine with splashes of chardonnay, gewurztraminer, pinot gris and riesling. Wonderfully balanced, with tropical fruit tones. A keeper.
2008 Messenger $98
A blend, almost in equal parts of merlot, malbec and cabernet franc. Shows complexity and maturity. Michael Cooper's Buyers Guide gives it 5 stars and Robert Parker 93-plus points. Get the picture?