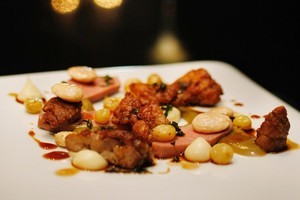 David Pritchard, as the television producer for Keith Floyd and Rick Stein, had some considerable experience of the higher reaches of cooking but was never able to share Stein's enthusiasm for the fancier food, which he didn't regard as providing a proper meal. And it's a view that is easy to endorse when you encounter on screen or in magazines some of the barmier excesses.
Then you visit a restaurant of the class of Clooney and the suggestion that top chefs can claim to be real artists seems less far-fetched. We were initially presented with an amuse-bouche of salmon with a sharp citrus foam topped with little wasabi bubbles and before dessert another palate-teaser arrived of a tiny pannacotta with apple and freeze-dried raspberries and a smear of rhubarb puree. Remarkably, you could taste every contributor to the whole. These morsels reflected the standard of the main dishes.
The excellence does not stop with the food. The premises remain as distinctive and comfortable as ever with the black drapes dividing what is basically a great barn into intimate areas and the space provides more than enough elbow room for the most neighbour-phobic diner.
Settle into your seat here and you relax into a frame of mind that prepares for the delights to follow.
Our first course was the salt-roasted heirloom beetroot with smoked sheep's milk yoghurt. We remain unsure what an heirloom beetroot is, or indeed what exactly is a textured walnut, but the little golden globes were a far cry from the stuff that turns up with the takeaway burger. My first course of veal tongue and sweetbreads with smoked golden raisins and almonds was a visual and textural delight and the cauliflower puree was a delicate encapsulation of that vegetable's flavour.
The same delicacy applied to the parsnip treatment with the crisp confit of duck leg, which was one of our main courses. Here the light-handed treatment of the vegetable was contrasted with rich, rich prunes and a pretty adornment of apple and elderflower jelly. The little witloof salad added a welcome crunch.
My main course was of farm-raised venison and the meat was full of flavour. The black pudding and preserved cherries were as complementary as could be imagined, and you certainly need some imagination to arrive at dishes like these, but I had my doubts about the cocoa millefeuille. It looked good but added little.
The cheese list was almost irresistible, with temptations such as a Roquefort, a ewe's milk cheese from Aquitaine and some home-bred stars. But most review readers prefer desserts, so we went with what were deceptively simple listings. The chocolate tart was well nigh perfect with crisp short pastry and a bold chocolate flavour captured in a light sabayon texture.
My hot pear tarte tatin was of an intense caramelised fruitiness with an extraordinary gorgonzola icecream. These dishes again summed up the excellence of the food here with that intensity of flavour being characteristic.
The wine list is of a similar standard - 1997 Bollinger Vieilles Vignes at $910 anyone? - and the service is flawless, knowledgeable and helpful.
Our wines arrived, as if by magic, from a different direction to the food but with clockwork timing.
There are restaurants, good restaurants and a very few super restaurants. Clooney remains one of Auckland's happy few.
Rating out of 10

Food: 9
Service: 9
Value: 7
Ambience: 8

Our meal: $271 for two first courses, two mains, two desserts and six glasses of wine
Wine list: A sharp Hugel Alsace riesling as a change from the New Zealand style, a well-balanced Domaine Road pinot noir and a big Barossa Hewitson Ned and Henry's shiraz. A terrific list.
Verdict: Spectacular food in a unique setting with magnificent service. Not cheap but very good.