Herald Rating: 4/5
Address: 55 Birkenhead Ave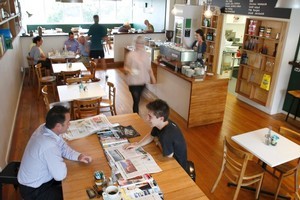 We came here because the cafe formerly known as Lounge had undergone a reincarnation and we were curious.
Parking was reasonably easy, with plenty of parking on the street or in the mall carpark nearby.
We walked in and immediately thought the cafe seemed more spacious without the bar that previously occupied the central area.
The most unusual thing on the menu was whitebait omelette with free range eggs, garden greens and lemon ($16.50). On the lunch menu - both the breakfast and lunch menus are all-day affairs - the Lazy Sunday pizza ($14.90) which changes weekly offered punters the opportunity to ask or be surprised, which sounded fun.
We ordered the hash stack of homemade hash browns with toast, bacon, free range poached egg and avocado ($16.50), the T&G big breakfast with homemade hash browns, bacon, sausages, mushrooms, poached eggs and toast ($17.90), corn fritters, again home made, with bacon, avocado and tomato salad ($15.90) and salmon potato cakes with spinach, free range poached egg and hollandaise sauce ($16.50).
All were well presented and tasty, with an emphasis on home made. The only difficulty was fitting all four large, square plates on the table along with the cups, glasses, etc.
The service was friendly, helpful and efficient.
The coffee was very good, and the hot chocolate was declared sublime.
We recommend if you come here take your time to select any of the meals. You can't go far wrong.
Overall we thought the new version of this cafe is in the groove.