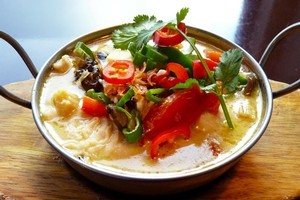 While most eateries took a break over the holiday period, we were delighted to see there were a handful of industrious people opening new restaurants. Down at the Viaduct, television doyenne Julie Christie has opened The Foodstore.
This modern, airy restaurant/bar/deli is perfectly set up to cope with the influx of tourists expected for the Rugby World Cup later in the year plus, uniquely, it is decked out with television cameras.
Christie, it seems, has plans to film here for the Food Channel. This could be your chance to eat - the food is great - and have your 15 minutes of fame at the same time.
Meanwhile, workers in the city will be impressed with the new pub, Fort Street Union, which has opened on, well, Fort St. With high ceilings, an open roof and lots of hanging plants it has the feel of a garden roof-top bar, making it a great option for lunch or an after-work drink. Level 1, 16 Fort St, City.
Another place we've yet to check out but have been told about is Besos Latinos, a new Latin American restaurant in the Elliott Street Stables.
Mexican chef Luis Cabrera is serving up a host of dishes from the likes of Argentina, Chile, Peru, Bolivia, Mexico and Cuba. Shop M16/39 Elliott St, City.
Meanwhile, up on Symonds St in the old Gina's location, is the newly opened Malaysian restaurant Sri Mahkota. Owner Han Chin describes the cuisine as blend of Malay, Chinese and Indian food traditions with Thai, Portuguese and Middle Eastern influences. Dishes include satay, rendang and char kway teow through to fried tofu and fish curry. See next week's Viva, for eating out editor Nici Wickes' review. Sri Mahkota, 207 Symonds St, Newton, ph (09) 302 3038.
Cool treat
If you're heading towards Omaha over the summer, don't drive past Omaha Organic Blueberries' icecream shop. Here they take fruit fresh from the orchard, churn it with fresh cream and sugar and serve it all up in a cone. Yum. Look out in February for their new stracciatella icecream, made from a recipe using Madagascan vanilla and chocolate. Find them at 89 Jones Rd, Omaha.
Highland fling
If you have any Scottish blood in you or just a penchant for good whisky, then head along to Vinnies' special Robbie Burns Dinner next Tuesday.
Chef Geoff Scott has put together a special menu which sees each course matched with wine or some serious single malt whiskies. Scott will, of course, be serving up haggis, made "from two organic sheep stomachs stuffed with the 'pluck' - read the lungs , heart, kidneys and livers mixed with secret seasonings and carefully stitched so nothing spills out - then lovingly cooked for 6 hours so it doesn't explode".
This will be accompanied by a reading of Burns Ode to the Haggis. Sounds like a night to remember. Be sure to wear tartan. $140 per person, Tuesday January 25, 7pm, Vinnies, 166 Jervois Rd, Herne Bay, ph (09) 376 5597.