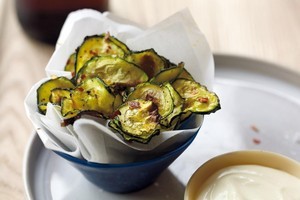 The humble zucchini is transformed into light, tasty "chips". It feels like you're cheating. Just don't eat the whole tray yourself. (These need to be cooked close to when you're ready to serve.)
Serves 6
2-3 large zucchini
Sea salt and freshly ground pepper
Pinch of dried chilli flakes
2 tbsp olive oil
Aioli:
1 tbsp light mayonnaise
1 tbsp Greek yoghurt
2 small garlic cloves, crushed
1-2 tsp lemon juice
1 Preheat the oven to 200C. Line two baking trays with baking paper.
2 Using a vegetable peeler or one of those super-thin slicers, shave enough thin slices of zucchini to cover the baking trays.
3 Sprinkle with the sea salt, pepper and chilli flakes and "flick" over the olive oil.
4 Bake for about 10-12 minutes, or until they turn a really golden brown.
Take out of the oven and let them cool on the baking tray until they feel "crisp".
5 To make the aioli, combine the ingredients in a small bowl and serve with the zucchini chips.
* Recipes and images from OMG! I Can Eat That? By Jane Kennedy (Hardie Grant, $34.99). Out now. Photography by Mark Roper.
Kennedy's blog: janekennedyminustheboombah.wordpress.com