Herald on Sunday rating: 4.5/5
Address: Market Square, Viaduct Harbour, Auckland CBD
Phone: (09) 377 0125
Website: thefoodstore.tv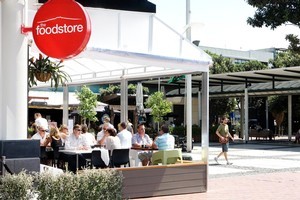 The Professor and I have taken a shine to one of the yachts at the Viaduct Basin. All brass and varnish it is, and very nice. If we can just get eight other people to fork out $280 a day we could have a nice week or so out on the ocean wave. Better still, the other eight could pay $350 a day and we could pay nothing because, after all, we thought up the idea. Applications in writing. Please send a picture of the money.
We saw the boat during a post-prandial stroll around the basin. I know I've been stuck down the Viaduct for a few weeks now but I couldn't resist dragging the Prof back one last time to check out the newest kid on the block which, when we ate there on Monday, was in its 21st day of operation and pretty damn busy.
I am bamboozled by our national passion for food programmes on TV, particularly after a Herald-Digipoll last month revealed that we are reluctant cooks: 28 per cent of us cook less than half the time. What, I ask myself, is everyone doing with all the information they glean from food television?
I mention this because The Foodstore is an offshoot of the Sky Digital channel Food TV. It's a bar, restaurant and upscale grocery (this last function is in its embryonic stages: olive oils and stuff) and plans are forming for selling what they call "deconstructed" meals - take-home, vacuum-packed kitsets ready for you to assemble and cook, though if Digipoll is to be believed, most people will find it too burdensome to open the packets. In the meantime, they can enjoy table service in a very stylish room - windows all around, dark wood furniture, crisp linen - with a splendid view of the yacht the Professor and I will shortly be sailing away on.
In a nod to the enterprise's roots, there are television screens all over the place. Some are tuned to what I assume is FoodTV but most get a surveillance-camera angle on the open-plan kitchen.
The effect is slightly eerie; I felt as though I was spying rather than watching and the figures were so distant and small that I could not have told whether they were piping whipped cream or filleting snapper.
But whatever the chefs - Mark Southon, Sarah Primrose and the extravagantly tattooed Wylie-Dean Hodgkinson - are up to, the results are magic. There's nothing pretentious or arcane about the food here. Every dish felt brand-new, made up of fresh and striking combinations that I don't remember having encountered before. Additionally and commendably, everything on the menu and wine list is sourced from New Zealand suppliers.
Each dish comes in starter or main size, so we grazed widely on small plates in the interests of research. Carpaccio (paper-thin slices) of octopus teamed with citrus segments and mint positively trilled summer, as did the shrimp and scampi ravioli, two large balls in a sweetcorn foam topped with matchsticks of cucumber; the duck, so tenderly pan-fried it seemed poached, came with a smoky eggplant purée; the creamed paua, a warm and agreeably coarse soup, came with a sensational sourdough bread. Lamb and salmon were well-accounted for.
The finish of a shared trifle, served in its own little preserving jar, was sublime.
Snappy and enthusiastic service and a location to die for add up to the complete package. The Foodstore has certainly hit the ground running.
Ambience: Chic and slick
Vegetarians: Gnocchi and sides
Watch out for: Superyachts
Bottom line: Summer in the city
THE BILL
$179 for two
Small dishes (6): $21-$25
Dessert (1): $14
Wine (3): $26