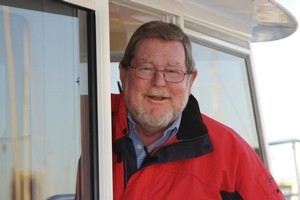 There would be few Auckland trailer boaties, especially among those who live on the city's northern shores, who have not heard of Roger's Boatshop and its hard-driving founder, Roger Arkell.
Arkell, who died at Auckland City Hospital on December 23 after a short illness aged 66, was a dominant figure in the marine retailing world for the best part of four decades.
He initially joined the marine industry in the 1960s, working at Samuel Parker, manufacturer of the then iconic Parkercraft range of aluminium boats.
While with the company, he established many of their dealerships, discovering along the way what worked in the way of systems and promotions. He was so successful that, during his final season with Parkercraft (the 1972-73 season), more than 4000 aluminium dinghies were built and sold, an astonishing figure, even by today's standards.
Even in those days, Arkell was something of a visionary. He proposed that Samuel Parker introduce a results-based system of payment and promotion rather than simply rewarding seniority.
This went against virtually every business model of the time and was, perhaps not surprisingly, rejected.
This proved the spur for Arkell to set up in business for himself.
With wife, business partner and lifelong friend Robyn by his side, Arkell chose to base his business in Albany. Not for the last time, those "in the know" were convinced he was mad. In 1973, Albany was little more than a rural backwater; it was not even considered part of Auckland. It was, in effect, little more than a stopover on the way to then holiday areas of Orewa and the Whangaparaoa Peninsula. However, Arkell was convinced his location, right on the main road north from the city, was more important than its apparent remoteness. The fact his overheads were considerably lower than his city competitors was also not lost on the young entrepreneur.
His decision proved so successful that, just two years later, he opened another branch in Browns Bay, in the middle of the fast-growing East Coast Bays area. A decade and a bit later he also set up on the corner of Wairau and Archers Rds in Takapuna, running the three yards until 1990, when he sold the Browns Bay outlet.
A couple of years ago, with the approaching recession no doubt in his mind, Arkell completed the circle and retrenched to Albany.
However, the Albany site that is now the sole Rogers Boatshop is a far cry from the business he set up almost 38 years ago.
So, too, is the Albany in which the business is based. Now a major Auckland suburb, Albany boasts a large population base, several business centres, a fast-growing and popular university and a modern sports and entertainment stadium.
While no longer on the main road, the Rogers Boatshop site is now a mini marine complex with a large modern service centre, different areas for new and used boats and even a separate showroom for the company's Yamaha water vehicles.
Arkell was also a firm proponent of the value of strong brands. Over his almost four decades, he promoted such leading Kiwi brands of their day as Sea Nymph, Bonito, Marlborough and Fyran. He was also, in typical Arkell style, the first to think outside the square and embrace two little known brands that are now among the most recognisable in the industry: Buccaneer and Yamaha.
A strong supporter of the New Zealand Boat Show (now the Hutchwilco New Zealand Boat Show), Arkell first exhibited there with Parkercraft in the 1960s. For many years he was one of the show's largest exhibitors, helped provide a number of gate prize boats and, in 2008, was the first marine retailer inducted into the show's Hall of Fame.
Arkell was also a strong supporter of the then Boating Industry Association (now NZ Marine), serving as an executive member for many years and lately sitting on the association's new Discover Boating committee.
The effectiveness of Arkell's philosophies, which had proved too radical for Samuel Parker all those years ago, is evident in the success that Roger's Boatshop has enjoyed. Very few marine businesses have survived for almost 40 years, and none at all in the tough, competitive sector in which Arkell has operated.
The results-based system of payment enabled Arkell to hang on to key staff for extraordinary periods of time, often two decades or more.
A keen boatie and fisher, Arkell was often to be found on his beloved Waitemata Harbour, frequently with wife Robyn and a glass of his favourite chardonnay close at hand.
Arkell ensured his business would be in good hands after he was gone. Son Nigel grew up around the business, headed the Albany branch when Takapuna was still operating and is now in charge as the company Roger Arkell created heads into yet another decade.