Authentic Kiwi baches where you can escape without leaving the city boundaries.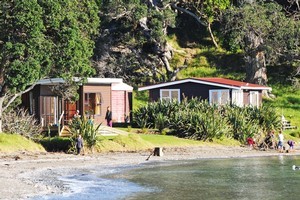 1. Atiu Creek Regional Park
This spectacular park on the Kaipara, gifted to the city in 2005, has two farm cottages to rent. Atiu Cottage sleeps 8, Takahe sleeps 10. Endless harbour views, native forests and wetlands to walk or mountain bike ride.
2. Scandrett Regional Park
On the south-eastern edge of Kawau Bay are 40s-style Moonlight, Coldham (both sleep 6) and Graham baches (sleeps 8). Pop across to Matakana markets or catch a ferry to Kawau Island from nearby Sandspit.
3. Anawhata
Solar-powered Keddle House is an authentic 1930s bach right down to flourbins in the kitchen, with spectacular views of remote Anawhata beach, walking tracks to beach and bush. Sleeps 6.
4. Awhitu House
The regional park on the rugged Awhitu Peninsula is on a working farm, with pohutukawa-fringed beaches, walks and mountain bike trails. Cross the road to the Awhitu Golf Club where you might catch Friday night dinners. Sleeps 6.
5. Wenderholm Beach and Schischka House, Wenderholm
With the glorious golden Wenderholm beach just through the hedge, Wenderholm House is tucked around from the picnic area. More secluded villa Schischka is tucked away overlooking Puhoi River.
All baches except Schischka House are $123 peak, $82 off peak, Schischka House is $164 peak, $123 off peak per night. You can book up to six months in advance. For bookings phone 09 301 0101. Call centre open on Statutory holidays for limited hours.
* For more bookable baches and campsites, see aucklandcouncil.govt.nz/regionalparks