An English couple who now call New Zealand home present a grown-up jelly with a berry and rosé twist.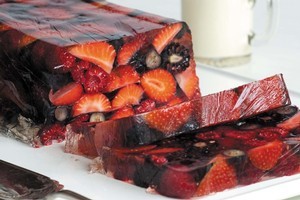 Travel around New Zealand from your kitchen bench, with this celebration of regional food.
It takes a British couple - chef Peter Blakeway and his wife Anne - to fall in love with the regional foods of New Zealand and bring them to our tables in their new book Fresh!. The English couple, who met working at a luxury resort in Florida, created the ground-breaking Deli on Devonport in their new home of Tauranga in 2004. They share their love of food through their Plenti Cookschool, and began delving into the regional ingredients as they they travelled around New Zealand, discovering our enthusiasm for high-quality fresh produce from land and sea.
With evocative photographs by Simon Young, Fresh! explores regional ingredients, both traditional and modern.
From Northland's chargrilled kumara and vegetable gateau to Southland's blue cod in a herb crust or Bluff oysters, the food is fresh and inviting. Plenty is showcased in between - Kaikoura crayfish, Canterbury lamb shanks, smoked mackerel from the Coromandel, and a tart from his home region's second most-famous crop, in an enticing avocado and chocolate truffle.
The couple also delves into regional food history, celebrate the blend of cultures and cuisines that make up New Zealand food and adapt loved family favourites from their homeland with local ingredients. Their sparkling berry fruit jelly makes the most of summer's peak fruit by mixing it with this season's favourite tipple, rosé.
Sparkling Berry Fruit Jelly
Serves 8
2 x 900g loaf tins (one to be used as a weight, line the other with plastic wrap)
350g strawberries, hulled and halved
225g fresh raspberries
200g fresh blueberries
6 leaves gelatine
425ml sparkling rosé wine
50g castor sugar
1 Tbs fresh lime juice
1 Mix fruits gently together. Soak gelatine sheets in water until soft.
2 Heat half the wine till it begins to simmer, then whisk sugar into it. Squeeze out gelatine and whisk into the wine mix until dissolved. Add remaining wine and lime juice, pour liquid into a jug and allow to cool.
3 Meanwhile, lay mixed fruit into lined loaf tin, arranging bottom layer decoratively, as this will be the top when turned out.
4 Pour all but 150ml of the liquid over the fruit. Lay a sheet of plastic wrap over the tin, place the other loaf tin directly on top, then weight down with heavy cans and refrigerate for about 1 hour until set.
5 Reheat remaining wine mixture and pour over surface of the jelly. Re-cover with plastic wrap and refrigerate overnight until set firm.
6 Turn out by dipping tin in hot water and inverting over a plate.
7 Cut into slices with a sharp knife dipped into hot water.
8 Serve with cream, yoghurt or fruit coulis.
* Recipe reproduced from Fresh! with permission from Hachette NZ Ltd, published by Hodder Moa.
Be in to win this cookbook
Fresh! The Best of New Zealand from Market to Table by Peter and Anne Blakeway, published by Hodder Moa, $49.99. We have one copy to give away.
To enter the draw, email your contact details to life@nzherald.co.nz by Thursday, January 20.