Address: 266c Manukau Rd, Epsom
Phone: 09 520 0261
Cuisine: Cantonese
Rating: 7.5/10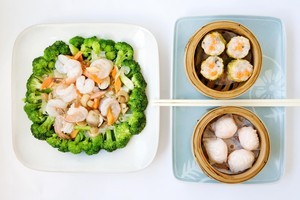 Oh the joy of a brand new year of eating out. For me, dining out is a complete experience where the ambience can define the evening as much as the food.
The bright lights of many Asian-style eateries have often caused me concern but a visit to Hong Kong last year put paid to that. I learnt that no self-respecting restaurateur would dare to dim the lights, as punters might think they had something to hide. A brightly lit restaurant says "Here, look at our fine food in all its glory."
So on a recent visit to Star Cafe Seafood Restaurant in Epsom I took the harsh fluorescent lighting that flooded the dining room as a hopeful sign.
This place is well known for serving up some of Auckland's best Chinese cuisine and on this night it was full, with a wonderful mix of clientele from elderly Epsom types to groups, families and young couples.
The menu is extensive and, true to its name, it features a huge selection of seafood dishes.
Also typical of many such establishments where the food is the focus, the well-thumbed menu featured deletions brazenly crossed out in biro. We loved it.
My dinner date for the night is a big fan of Chinese cuisine so tucked into a steaming bowl of chicken and corn soup and declared it "velvety and divine". With its delicate threads of egg white, minced chicken and corn kernels this was a rich and comforting way to start the evening.
I, meanwhile, had ordered a plate of steamed dim sum and deep fried spring rolls for us to share. Despite being fried, the spring rolls were crisp and not at all greasy, possibly even a bit on the dry side. They were packed with Chinese mushrooms and thankfully devoid of the usual cabbage filler.
I love a shaomai dumpling and the steamed dim sum at Star Seafood are a great rendition of these. Small pork dumplings, left open at the top, steamed and decorated with pea or carrot "dots", these tasty morsels were a treat to pluck up with your chopsticks, dip into the accompanying chilli oil and pop into your mouth.
Our mains all arrived in a furious flurry and as the plates piled up we could see that we'd over-ordered. Prawn and combination vegetables may have had a fairly pedestrian name but what arrived was one of the liveliest dishes I'd seen for a while. The bright pink and white prawns (of which there were plenty) were curled and tightened by the fast stir-fry, the vegetables were colourful and crisp and a subtle peppery sauce bound the lot together. The whole dish screamed with freshness and was bursting with flavour.
Gong bo chicken is a dish that originates from the Guizhou province in south-central China. Cuisine from this region has a reputation for being spicy and I was pleased that Star Seafood hadn't toned this dish down for Western tastes. With ginger, garlic, spring onions, sichuan pepper and lots of chillies, this was a fiery little number with great texture and taste.
By the time our final two dishes arrived our appetites were already waning but we soldiered on. Duck meat was served with iceberg lettuce leaves to wrap it in and hoisin sauce for dipping. Biting into these crunchy, refreshing little parcels we were sorry we'd filled up on the other dishes.
The egg fried rice which was packed full of mixed vegetables and the rice had that wonderful, slightly sticky, texture that is so pleasurable in a decent fried rice. We had copious amounts of leftovers so these were bagged up for us to take home.
My only regret of the evening was that I sent the leftovers off with my dining companion and the next day, when I had a hankering for those fine flavours, the best I could do was imagine them.
If it's an unpretentious and inexpensive dinner you're after to start off your year of eating out, you'll not be disappointed by this Epsom eatery. Though the service can be a bit sporadic, the staff are keen to please and they do their best to accommodate despite having a language barrier to contend with.
Star Cafe Seafood Restaurant is a place that was discovered by the Epsom locals long ago and it's easy to see why, with food as fresh and tasty as this.
From the menu: Deep fried spring rolls $8, chicken and corn soup $5.50, steamed dim sum (shio mai) $5, prawn with combined vegetables, $22, gong bo chicken $18, duck meat wrapped in lettuce $18, crispy skin roast pork $8, egg fried rice $9.
Drinks: Beer and BYOW.