Make the most of your time off to appreciate your own surroundings.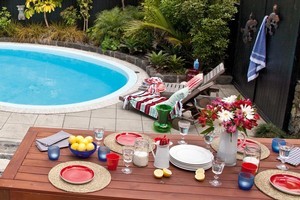 Where's the hottest holiday destination for summer 2011?
Your place.
The hottest holiday trend is to get away from it all by just staying put. There's even a buzzword for it - the staycation.
In these post-recessionary times, a holiday at home is a lot cheaper than heading away, but to make it truly enjoyable you need to set yourself some rules. Number one is ditching your normal routine. This means turning off your mobile phone and disconnecting your computer. Tell people you're not available for the period of your staycation and don't even think about doing any DIY jobs around the house. Likewise, if you have children, empty the week of their usual activities and make it known there will be no playdates.
Diary in a "departure" and "return" time for your holiday and set yourself a budget. Work out what you are saving on things such as airfares, hotel accommodation and car rental then put that money towards meals out, day trips and other treats like a cleaner and someone to mow the lawn.
Make a list of all the activities or outings you have been meaning to try but never got around to and work out what restaurants you would like to eat at each night. Order takeaways to be delivered to your door. Find a mobile masseur to come to your home and pamper you.
Before your "departure", make a few preparations such as tidying the house, doing the laundry and stocking up at the supermarket so you don't have to go out unless you really want to.
Assemble a pile of books that you have always wanted to read and hire some movies to watch in the evening instead of the news or your usual viewing.
To get into holiday mode, set out your favourite summer clothes and get the family involved in giving the back yard a tropical feel by using fern fronds to build a fale-type shelter. Or just pitch a tent on the lawn and let the kids sleep out there for the duration. Find a nice shady spot to hang a hammock and use it for siestas after a long, leisurely lunch with a glass of wine.
Cooking meals (and washing dishes) should be avoided at all costs, but if you do have to do any cooking, use the barbecue and eat outside as much as you can.
Put a daybed in the shade or put loungers or deck chairs out on the lawn. If you've got a swimming pool, make it the focus of your relaxation during your staycation. Set yourself up poolside with thick beach towels, cushions, a sun umbrella and some music.
Each day, fill a basket with all the things you are going to need while lazing around and take it out to the pool, deck or garden with you so you don't have to keep going back in to the house, which will break your holiday mood.
Hotel at home
Lap of luxury: Buy some crisp white cotton sheets and a new pillow to recreate the feel of sleeping in a luxurious hotel bed.
Fresh approach: Fill the fridge with your favourite food and drink, put fruit in a bright bowl and get in some flowers.
Leisurely read: Get the latest copies of your favourite magazines and set them out on the coffee table or beside a lounger in the shade outside.
Leanne Moore is the editor of Your Home & Garden. See the latest issue, on sale now, for more achievable home ideas.