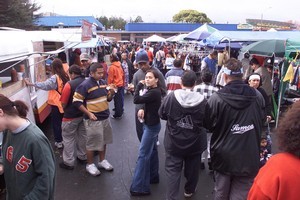 Avondale Market
Ash St, Sundays, 7am-noon.
This big market is full of surprises, fresh fruit and vegetables and interesting characters. You can haggle over anything from a flashing sushi sign to handmade Pasifika jewellery and model Ferraris. Don't leave without finding the Island Foods caravan and its steaming Island banana pancakes - the best breakfast in the West.
Parnell Farmers' Market
Jubilee Building carpark, 545 Parnell Rd, Saturdays, 8am-noon.
This market has an increasing number of fresh fruit and vege stands, as well as flowers and goodies to eat. Cheese lovers always head to Colchis Cheese for traditional Georgian cheeses such as sulguni (a low-fat soft mozzarella-type) or inguli (a porous cheese that can be lightly fried like haloumi ). Dave Barley's NZ Cheeseman has artisan cheeses from all over the country and a small goods selection. Bakery goods have always been a specialty at the Parnell Markets.
Otara Market
Otara Rd, Saturdays, 6am-noon.
With 250 stalls and around 5000 visitors each Saturday, this is New Zealand's largest street market and the biggest Polynesian market in the world.
Pacific Island, Maori, Asian and Pakeha stallholders create a unique multicultural experience. Pacific Island elders sell traditional tapa cloth and tivaevae (quilts) and Indian and Chinese food stalls compete with stands selling coconut and pineapple buns and hot rewena bread.
Clevedon Village Farmers' Market
Clevedon Showground, Monument Rd, Sundays, 8.30am-noon.
Vendors include Running Brook Seeds (heritage seeds) , Soggy Bottom Holdings (rare breed free-range meats), Piako Pete's (smoked and wet fish) and South Hill Farm (heritage tomatoes and vegetables). There are queues for the buffalo mozzarella from Clevedon Valley Cheese, crusty breads or bagels from Wild Wheat or Blackwood's and Hungarian Twisters' kurtos kalacs - traditional Hungarian pastries.
Howick Market
Picton St, Saturdays, 8.30am-12.30pm. Watch Elena Ikiua weave flax baskets or get a few knitting lessons from the woman who produces babies' booties. Sarah C Design and Birdie Num Nums offer colourful outdoor art and postboxes while Tony of Dunsmuir Crafts makes cutting boards and wooden boxes.
Our thanks to Catherine Smith and Julie Harries.