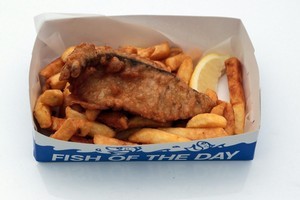 As you wander through the balmy summer evenings, past the rundown looking hole-in-the-wall Chinese takeaways to the place with the flash signs and big plate glass windows, it's worth remembering that the most expensive fish and chips are not always the best.
A Herald on Sunday panel tested fish and chips from a range of takeaways and found price and quality don't always go hand in hand.
A battered piece of gurnard and a scoop of chips costs $9.30 from the Fish Kitchen in Parnell but was given the thumbs down by the panel.
The portion size was small, and I - for one - thought the batter and chips could have been cooked for longer. They were pale and limp.
The Fish Kitchen is also home to the $35 fish and chips meal: snapper battered with Moet Champagne. But this being about summer evening takeaways, we passed on that.
The fush'n'chups most poorly rated by our panel were also the cheapest: at $3 from the Goodwill Chinese Takeaway in Grey Lynn.
But some panel members argued Goodwill's hoki fillet ($2 on its own) was better than the Fish Kitchen's gurnard ($5.80 on its own).
But I thought the hoki batter was too thick and not cooked all the way through, the fish hidden in a gooey dough. I did think the chips were not too bad, for a $1 scoop.
The fish at Mission Bay's Fish Pot Cafe was tarakihi, which together with a scoop of chips cost $7.60 and was rated third-best - or third-worst. The fish was tasty, although the batter was too greasy for me. The chips were cooked very well and the portion size good.
The famous Mangonui Fish Shop, in the Far North, had the best views of all the eateries trialled. The snapper and chips cost $9.50, but were tasty.
And the dining experience on the jetty overlooking the water was worth it.
Top marks were given to Oceanz Seafood's fish and chips at the Auckland Fish Market, at a price of $7.
The fish of the day was trevally, a delicious meaty fish. The batter was not too thick or greasy and it was cooked perfectly. The chips had a light coating and were by far the best. We had to wait 20 minutes - but it was worth it.
Oceanz' price was second cheapest, proving that the most expensive is not always the best.
THE VERDICT
8/10: Oceanz Seafood, Auckland Fish Market $7
1/10: Goodwill Chinese Takeaway, Grey Lynn $3
7/10: The Mangonui Fish Shop, Mangonui $9.50
3/10: The Fish Kitchen, Parnell, $9.30
6/10: The Fish Pot Cafe, Mission Bay $7.60