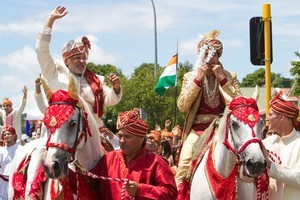 An Auckland suburb came to a standstill today as a Bollywood-style Indian wedding procession brought the streets alive with colour and dancing - but no white lions or cheetah cubs.
The nuptials are due to take place at 9pm this evening, when former beauty queen and Auckland doctor Pooja Chitgopeker will marry Chicago millionaire Vikram Kumar as part of a three day celebration, which will finish tomorrow night.
They had prayers at Bharatiya Mandir temple in Balmoral this afternoon and the groom arrived on a chariot pulled by four horses, which temporarily closed Balmoral Road.
The groom's party were due to fly by helicopter to east Auckland's Formosa Golf Resort in a V-formation at 4.15pm.
Mr Kumar will then be taken by horse-drawn chariot up the red-carpeted aisle in a two hour procession watched by about 450 guests from India and the United States.
The couple's wedding details are featured on their own website, with a schedule describing caged white lions and cheetah cubs to lead the "baraat", traditional wedding party.
But event organiser David Hayward, of the Auckland-based Orange Group, said horses would be used instead.
"Normally in India, they have elephants and lions but that just wasn't possible in New Zealand," he said.
"The reason we decided not to have the animals was because Mr Kumar made his money out of electronics, so he decided to do a 21st century version of it. So instead of elephants and tigers, we've got helicopters," he said.
It was an exciting and complex event to organise, Mr Hayward added.
"The overall logistics of the event had many different aspects to take into account. There's a thriving and amazing Indian community in New Zealand so we've had to mobilise the Indian community who probably haven't seen a wedding here on this scale before.
"We had a really colourful, beautiful procession this afternoon with performers on a moving stage. In Indian tradition the wedding is about two kingdoms coming together, and the baraat involved the groom's party travelling in a procession to the temple for prayers before the wedding ceremony later tonight," he said.
Mr Hayward remained tight-lipped about which celebrities had been invited, but he said a lot of high-profile Indian names were on the guest list.
American politicians Sarah Palin and Donald Rumsfeld were reported to have turned down invitations to attend.
Dr Chitgopeker was Miss India in 2007 and graduated as a doctor in Auckland last year, and Mr Vikram's father is the founder of AVG Automotive in the US.
The couple met in Auckland in January last year and have been living in the city for the past year, although they are planning to move to Chicago.
Their wedding is to be made into a movie and is also being filmed for the Indian TV series My Big Fat Indian Wedding.
- NZPA